10 Social Media Ideas For Brokers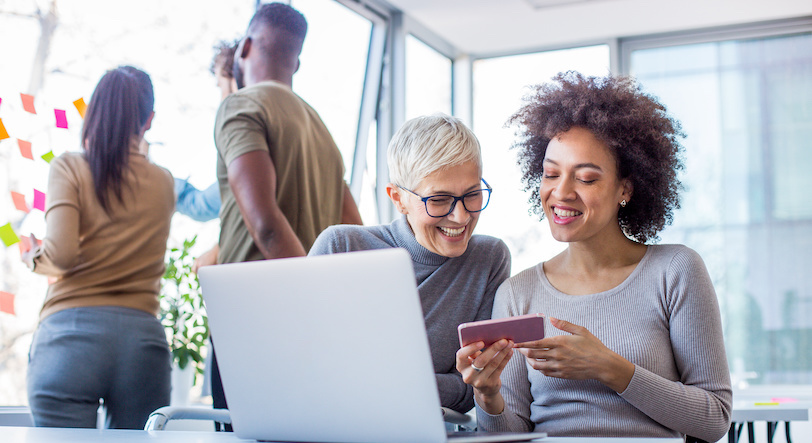 It most likely comes as no surprise that if you want your brand to be seen, you've got to be active on social media. These days, it seems like everyone is on at least one social platform. And that's a pretty accurate assumption. As of January 2022, there were 3.96 billion social media users, according to Sprout Social.
While it's easy to get started on social media, it can be difficult to come up with daily content that uses a diverse mix of media, engages your audience, recruits new clients and converts. While it's important to create a holistic social media strategy, here are a few social media ideas for brokers to get you started.
10 Social Media Ideas For Brokers
Sprout Social also found that the average person will go between seven different social media platforms per month. This shows the importance of being on more than one network. When using some of these post ideas, consider which platform each post would perform best on.
1. Myth Vs. Fact
There are many mortgage myths out there – including some that may keep people from getting a home loan. For example, the belief that you must have a 20% down payment may lead people to believe they can't afford to buy a home.
This type of post can be as simple as a static image featuring the myth then the fact or creating a 15 – 30 second video with an LO stating the myth, then going over the fact in more detail. With so many mortgage myths out there, you could make several posts dedicated to one myth each.
2. Articles From Your Blog
Mortgage education is important. Having a blog that takes a deep dive into various mortgage topics, like closing costs, FHA vs. conventional loans or what clients can expect during the process, provides that valuable information. Not only that, a blog can get people to your site and help establish you or your company as an industry expert. Even better, each new article can be a brand-new social post.
3. Client Contests
People love competition, prizes and showing off their homes. Why not give them the opportunity to do all three? Contests that ask your followers to post a picture in the comments, tag your company page or use specific hashtags can help increase your engagement. Have clients post a picture in the comments and have people vote for the best decorated home with "likes." Tell them to invite their friends to participate. Award a winner with company swag and a gift card. A few contest ideas include best holiday decorations, weirdest home feature or most relaxing backyard.
4. Important Articles From Reliable Sources
Curated content is content that comes from other sources. Sharing an article, video or social post from a person or business other than yours helps you meet your audience's needs, positions you as a thought leader and shows you have a pulse on the industry. It also makes your page not just about you.
5. Polls
One great way to get people engaged is to ask their opinion on something. Polls allow people to answer the question without the additional commentary. Just make sure you monitor the comments and only ask non-controversial questions, steering clear of such polarizing topics as religion and politics. A great example of this is, "Would you rather live in a cabin in the woods or a condo on the beach?"
6. Client Testimonials
When it comes to getting new clients, satisfied clients can do the work for you. Testimonials from happy clients will help people feel more positive about your business and give them a better idea of what it's like to work with you. The best part about client reviews? Along with enhancing your marketing, they're also free.
7. New Homeowners
These feel-good posts show you with happy new homeowners and shows others that the dream of homeownership is possible. Make it even better by sharing especially fast closing times or anything else that made the homeowners move into their home faster – thanks, in part, to your company's great work.
8. Finance Tips
Sometimes, a person's financial situation may keep them from qualifying for a loan. Providing finance tips to help them reach their goals is not just a good deed, it can also be a nurturing play that may result in their business when they're ready to buy a home.
9. Emoji, Gif Or Photo Challenges
Another way to get people engaged with your content is to ask them to be creative. Ask your subscribers to describe something using only GIFs, pictures or emojis. The results are often funny and can elicit great reactions and conversation.
10. Community Events
Participating in local events and promoting other local businesses shows you support the community and helps you make a good impression on potential clients – one of the seven strategies that drive business growth.
You Need To Pay To Play
You can use all of these different social media ideas for brokers and still not get anywhere if you're only doing so organically. The social media space is competitive. In order to be seen by potential new clients, you'll need to pay for sponsored posts. The good news is that even a budget of $50 to $100 can get thousands of eyes on your content and help you target specific people to narrow down your audience.
Leverage Rocket ProSM TPO
Rocket Pro TPO partners can visit our Marketing Hub in the partner portal to customize premade social media tiles for all of their social media accounts. We have some for products, promotions, holidays and mortgage information. Don't have access to the hub? Partner with us today!