Rocket Fuel Newsletter – 11/04/23
Beer belly wrestling, a mullet competition and selfies with alligators! Don't miss the first-ever Florida Man Games coming up in February. Refereed by two former American Gladiators, this will be an event that you're sure to maybe remember!
In this edition: the economy remains stable, the Fed holds steady and don't forget to set your clocks!
Fuel Up! 🚀

September Job Openings 
The Bureau of Labor Statistics released job openings and labor turnover numbers for September this past week. Job openings stayed steady at 9.6 million, another sign that the economy is remaining resilient. 
FOMC Holds The Line 
The Federal Open Market Committee (FOMC) met this week, and as expected, it announced the decision to hold the target rate for the federal funds rate at 5¼% to 5½%. They have reiterated their commitment to achieving a 2% inflation rate and will continue to monitor key economic indicators and adjust policy accordingly.
Daylight Saving Doom? 
Daylight Saving Time ends this weekend, so don't forget to set your clocks back! You'll also want to stay on your toes, as Johns Hopkins School of Public Health reports changing time is linked to higher chances of heart attacks, strokes, mood disturbances, hospital admissions and car crashes!

Brandon Westfall, LTD Mortgage
Tell us about the beginning of your career. What got you started? 

I started with a company that was an internet-based lender. From there I left and went to a reputable local company which is where I really learned the business. 

Tell us about some of the biggest lessons you've learned in your tenure. 

Building relationships and finding who you work well with. Having a team that works together is a huge part of the process being smooth and stress free. 

What is one thing you wish you knew when you got started? 

I wish I knew a little more about the business before jumping in feet first. Everywhere you work and everyone you talk to is going to have a different approach on how they do business – finding what works best for you is key in making it in the business. 

How do you want to grow your business? 

Through past clients and just keep closing more deals. Building a solid pipeline and solid relationships is the best referral source out there. 

What do you feel would take your business to the next level? 

Having a good mix between follow-up and staying up with technology such as a good CRM to stay in front of your clients. As a person you can only do so much and have little time in the day – you need to be utilizing all your resources to maximize your productivity.

Why Rocket Pro℠ TPO? 

The support, speed, and tools offered to their partners is un-matched by anyone. I always say "A [lender] who cannot create a smooth transaction is a partner killer." Rocket is my go-to when I am trying to get deals done stress free and FAST.

To fight inflation, the Fed has been raising the the Federal Funds Rate and they have been doing so at the fastest rate in history. This historic pace, which started with the first rate hike in March of 2022, has included 11 rate hikes.
Despite the rapid increase in rates, the economy continues to show signs of strength and is even showing signs of growing. Gross domestic product (GDP) dropped this month and showed that GDP was up nearly 5% in the third quarter. This is more than double that of the second quarter and caught people by surprise.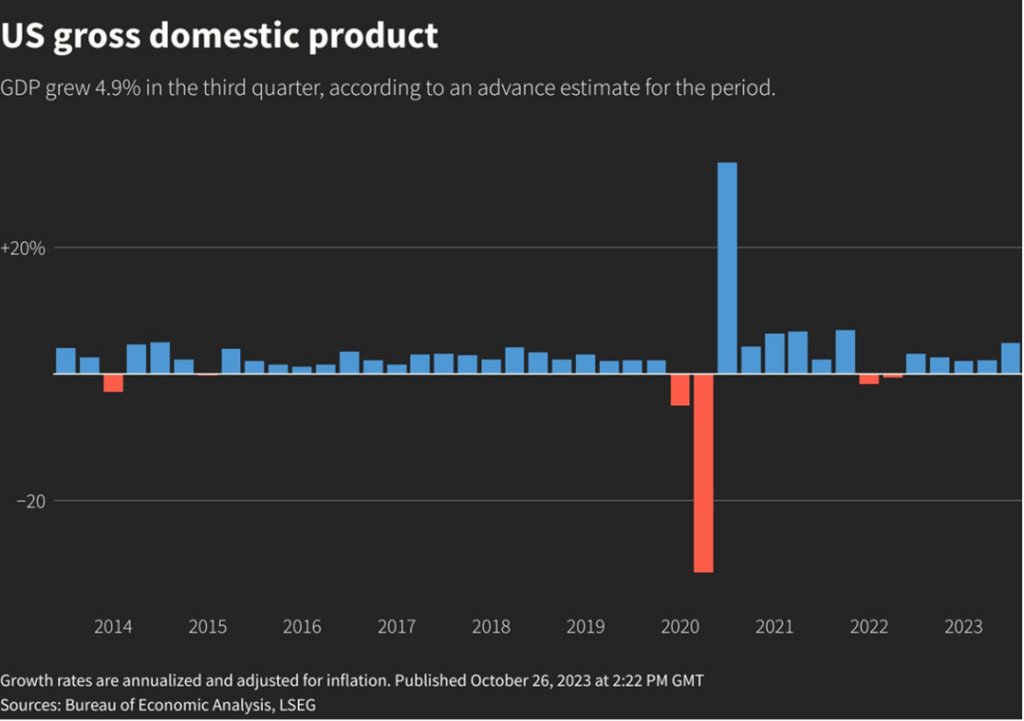 Consumer spending, which accounts for 70% of U.S. GDP, rose in September and was up 0.7%. This was boosted by individuals spending more on travel, cars and housing.
While the economy has held strong, so too has inflation. Core PCE, the Federal Reserve's preferred measure of inflation, increased 0.3% for the month of September and 3.7% from the previous year.
Inflation continues to stoke recession fears for many. Outside of the staff at the Fed who think they will nail the soft landing; many believe there will be a recession in the next 12 months; 69% of consumers and 84% of CEOs believe a recession is on the horizon.
With all of the strong economic data coming out, why are so many worried? It could be due to the lagging impact that changes in the Federal Funds Rate have. For example, in previous hiking cycles, it has taken an average of 11 months from the time of the last rate hike to the time of a recession. 
We have already started to see some potential signs of weakness within the economy. Car owners have begun falling behind on their payments at the highest rate on record. In September, 6.1% of borrowers were at least 60 days past due on their auto loan, the highest percentage recorded since it began tracking in 1994.
Personal Savings Rate, the percentage of disposable income people are saving, continues to trend down and is down to 3.9%. The average for the past decade is around 9%, though this was largely aided by the pandemic. 
In a recent survey, 48% of Americans stated that they depend on credit cards to cover essential living expenses, especially in younger generations (59% of millennials). A shocking 29% of respondents stated they max out their credit card every month.
Taking all these factors into consideration, the Fed decided to leave interest rates unchanged on Wednesday for the second straight time. They again stated their focus on achieving price stability in the economy while noting they are seeing signs that their monetary policy is making an impact. They did, however, note they are not considering rate cuts at all right now.


Bryan's time of 36 seconds was far and away the best time of last week. Congrats to Jim, Beth K and Mike C for also finishing in 1 minute or less!
This week's puzzle gets 3 Rockets out of 5. Click here to solve!