Rocket Fuel Newsletter – 10/07/23
In this edition: Rocket Pro℠ TPO is the first to announce 2024 conforming loan limits, how you can help your clients lower their down payments and apparently you can't bring an alligator to a baseball game.
Fuel Up! 🚀

2024 Conforming Loan Limits Are Live With Rocket Pro TPO 
For the second straight year, Rocket Pro TPO is the first to announce next year's conforming loan limits! Starting on October 2, new registrations on Fannie and Freddie conventional products can exceed 2023 loan limits! 
This could mean less money down, more cash out or better pricing for clients who need loans above the 2023 maximum loan amount!
Find out more in Pathfinder℠ by Rocket.
Government Shutdown Averted (For Now)
The good news: Congress successfully avoided a government shutdown in the 11th hour last week.
The bad news: It aged last week's Caffeinated Trends content like milk.
Just before the clock struck midnight, Congress was able to pass a continuing resolution, temporarily avoiding a shutdown and keeping the government open for 45 days. This bipartisan move came to the surprise of many as the consensus was that a shutdown was inevitable.
While a shutdown has been avoided for now, the underlying issues still need to be addressed before the new deadline of November 17, which will be more difficult now without a Speaker of the House.
Alligator Banned From Baseball Game
A 6-foot-long alligator named Wally was denied entry into a Philadelphia Phillies game last week. Unfortunately for Wally and any alligator enthusiasts at the game, the ballpark prohibits all animals other than "guide dogs, service animals or service animals in training."
It turns out there is a lot more to the story, as Wally has a long history of public appearances and is a mini celebrity in the city. Read the full story here. 

There's no doubt that home buyer concerns have expanded compared to the past. Price, mortgage payment and interest rate have always been a concern, but now prices have gotten so high that buyers are concerned about affording a down payment. And while location remains a primary concern, its importance is lessening in the minds of many home buyers.
One of the primary concerns for buyers is that home prices have remained fairly high, despite interest rates rising. While no one can control the invisible hand of the market and bring prices down, having a lower down payment can help your clients with having money to bring to the closing table when there's a gap between the offer and the appraisal.
Luckily, Rocket Pro℠ TPO is here to help! Read more about the state of today's turbulent market and how you can help lower your clients' down payments to get them into their dream homes! 
It's been a big week for Fawaz in California, where he was visiting our friends at West Capital Lending and HouseAmerica Financial. He even made time to stop and chat with Albert Einstein!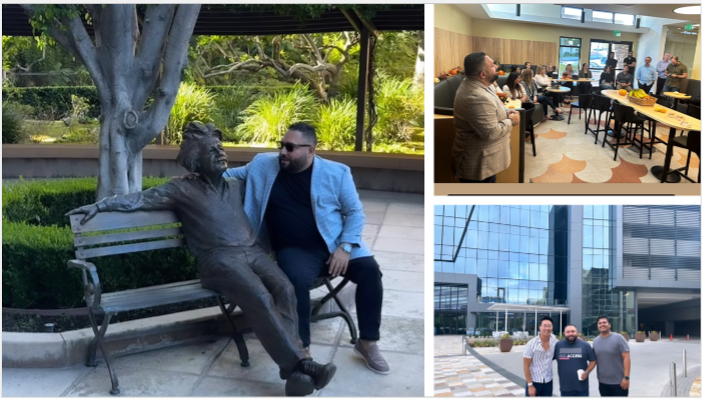 Mark Goldstein returned to the top spot on last week's puzzle – his time of 33 seconds was 7 seconds faster than Jim's second-place time of 40 seconds.
This week's puzzle gets 4 Rockets out of 5. Click here to solve!