Rocket Fuel Newsletter – 08/26/23
Congrats on making it past the "sickest" day of the year!
This week's edition includes how to SAVE, new residential home sales, cryptocurrencies and more!
Fuel Up! 🚀

Did You Call In Sick On Thursday, August 24?
August 24 is the day of the year the most people call in sick. Yes, it even beats out the day after the big Sunday football game. So, if you were able to work on Thursday this past week, take a second and pay homage to your health.
New Home Sales Continue To Rise 
As inventory for existing homes remains low, the new construction market is thriving. The U.S. Census Bureau released their July 2023 report on New Residential Home Sales, which has hit a new 17-month high. Building Permits and Starts remained elevated, which gives the assumption that the green line could continue to increase. 
Saving On A Valuable Education (SAVE) 
For any of your clients who have student loan repayments, this program could be a game changer. SAVE is an income-based student loan repayment plan from the federal government that just went live a few days ago.
Hey Fawaz! 👋 What's your recap on Originator Connect?!
Replay: August IGNITE Live 
This month, Fawaz shed light on some of the ways we provide for our partners. Watch now in August's IGNITE Live replay.

Cryptocurrency, whether positive or negative, always seems to be in the headlines. Recently, much of the conversation has centered around the regulatory aspect for these digital assets.
According to a study by Coinbase, ~20% of Americans own crypto, and it continues to gain in popularity both domestically and globally with an estimated 1 billion worldwide users. With the increase in adoption comes the need for increased regulation. There have been Senate hearings, failed exchanges and lawsuits in the past year that have captured the attention of many.
One of the bigger points of contention is whether cryptocurrencies should be classified as a security or a commodity. A security is a tradable financial asset, like a stock or bond. A commodity is a physical good, including gold and silver. There is an argument that can be made on both sides, but the real question is – why does it matter? If found to be a security, running cryptocurrency exchanges, such as Coinbase, would be much more expensive and complicated due to the investor protection requirements. Another complication is that not all cryptocurrencies are the same, and therefore, they likely need to be evaluated differently. This is currently being investigated by the Securities and Exchange Commission (SEC).
Another topic of heavy discussion is the possibility of a spot Bitcoin ETF. Firms like Fidelity and Invesco have been trying to break through and become the first to be approved by the SEC ever since the first filing in 2013, and it is regarded as a "holy grail" within the space. The significance of a spot ETF is that it would allow for easier and cheaper access to Bitcoin, allowing buying and selling through a brokerage account.
Optimism for an ETF being approved rose when Blackrock, the largest asset manager in the world, joined the race and filed their application. This is notable not just because of the size of Blackrock, but also because of their track record with ETFs. Out of 576 ETF applications, 575 have been approved and only one was rejected. This gives hope to the industry, which is looking for resolution. However, they are going up against a formidable foe in the SEC, which is a perfect 33-0 when it comes to rejecting Bitcoin spot ETFs. The main concerns from the SEC center around surveillance and insider trading that can lead to fraud and market manipulation. These are things they say need to be addressed before they would approve such an ETF.
If the SEC agrees to approve one ETF, the expectation is that multiple others would be approved at the same time. This has the potential to lead to a large influx of capital from investors that typically haven't had access to the space. Regardless of what happens, it doesn't appear that Bitcoin and cryptocurrency are going away anytime soon. This has already started to trickle into the mortgage industry as clients look to use cryptocurrency assets to qualify for their mortgage. While not allowed to be used as a source of income, cryptocurrencies can currently be used as a source of funds or reserves pending proof of liquidation on many products.
The next 6 to 12 months could prove pivotal for cryptocurrency regulation and could shape how they are viewed in the financial system and change how they are treated within the mortgage industry. 
Rocket Pro TPO sponsored the annual Originator Connect conference in Las Vegas last weekend, featuring a keynote address by Fawaz.
Thank you to everyone who stopped by our booth, grabbed some swag, and spoke to a team member about all the advantages that Rocket Pro TPO offers to the broker community!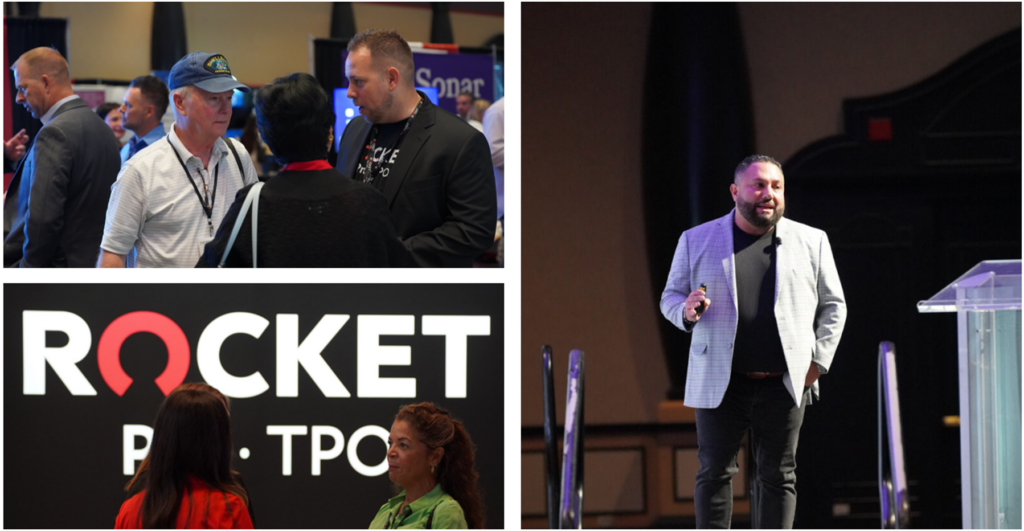 We have a tie! Mark C and an unnamed solver both finished last week's puzzle in 36 seconds. Seven others finished in less than 1 minute.
This week's puzzle gets 5 out of 5 Rockets. Click here to solve!