Rocket Fuel Newsletter – 07/22/23
Looking to make a few extra bucks? Believe it or not, people have made decent cash streaming themselves playing online slot machines, you know, in case you get tired of watching your favorite coin flipping stream.
Fuel Up! 🚀

Economic Calendar Roundup
Several important indicators dropped this week, just a week before the Federal Reserve meets to decide on an interest rate hike.
Single-family housing starts fell 7% in June as builders continue to run into obstacles in breaking ground on new projects. Unsurprisingly, housing completions fell from May to June.
Single-family building permits rose 2.2% in June, largely due to the extremely low supply in single-family homes in the market.
Existing home sales also fell in June to a 5-month low. The housing shortage pushed sales down 3.3% month-over-month.
All signs point to another rate hike next week, and these data points are unlikely to change that trajectory.
A Mortgage Maturity Date Of ... 2113? 
Rising interest rates are also hitting our northern neighbors, which has caused some variable-rate Canadian mortgages to balloon to amortization periods of up to 90 years in order to avoid skyrocketing monthly payments. 
You Good, Burger King?
Burger King Thailand introduced the "real cheeseburger," which consists of no meat and up to 20 slices of American cheese. Yes, it's literally a cheese sandwich.
Patrons aren't exactly melting over the idea, with the sandwich being described as "too much," "too intense" and "an insane amount of cheese."
Not to be outdone, Burger King Canada now offers chicken nuggets with ketchup-flavored breading, and to help promote the new "Barbie" movie, Burger King Brazil has released a limited-edition burger with a pink sauce bearing an uncanny resemblance to Pepto-Bismol.
"No idea is a bad idea!" – Burger King's Product Development Department, probably. 

Student Loans Have Been In The News A Lot Recently
Last Friday, it was announced – just as student loan payments are set to resume this October – that over 800,000 borrowers will have their student debt erased, adding up to $39 billion. This marks the end of an over 3-year moratorium dating back to March 2020 when federal student loan borrowers had payments suspended and interest rates set to zero due to the COVID-19 pandemic.
Currently, nationwide student loan debt sits over $1.77 trillion dollars. The debt has continued to accumulate and impacts nearly 44 million borrowers, with the average federal student loan debt balance of $37,717. Once payments resume, the average payment will be $400 per month.
For those that will have their student loan payments resuming, the impact could be substantial.
Consumer Credit
The Consumer Finance Protection Bureau estimates that one out of every five borrowers have risk factors indicating they could struggle once payments begin again. If borrowers start to fall behind, this will impact their FICO® Score, hurting their chances of getting approved for loans and increasing their interest rates.
Additionally, the resumption of payments will impact borrowers' ability to save for things, including down payments on large purchases like a car or home.
A 2021 study found that nearly one in three people with student loan debt believed it would impact their ability to purchase a home.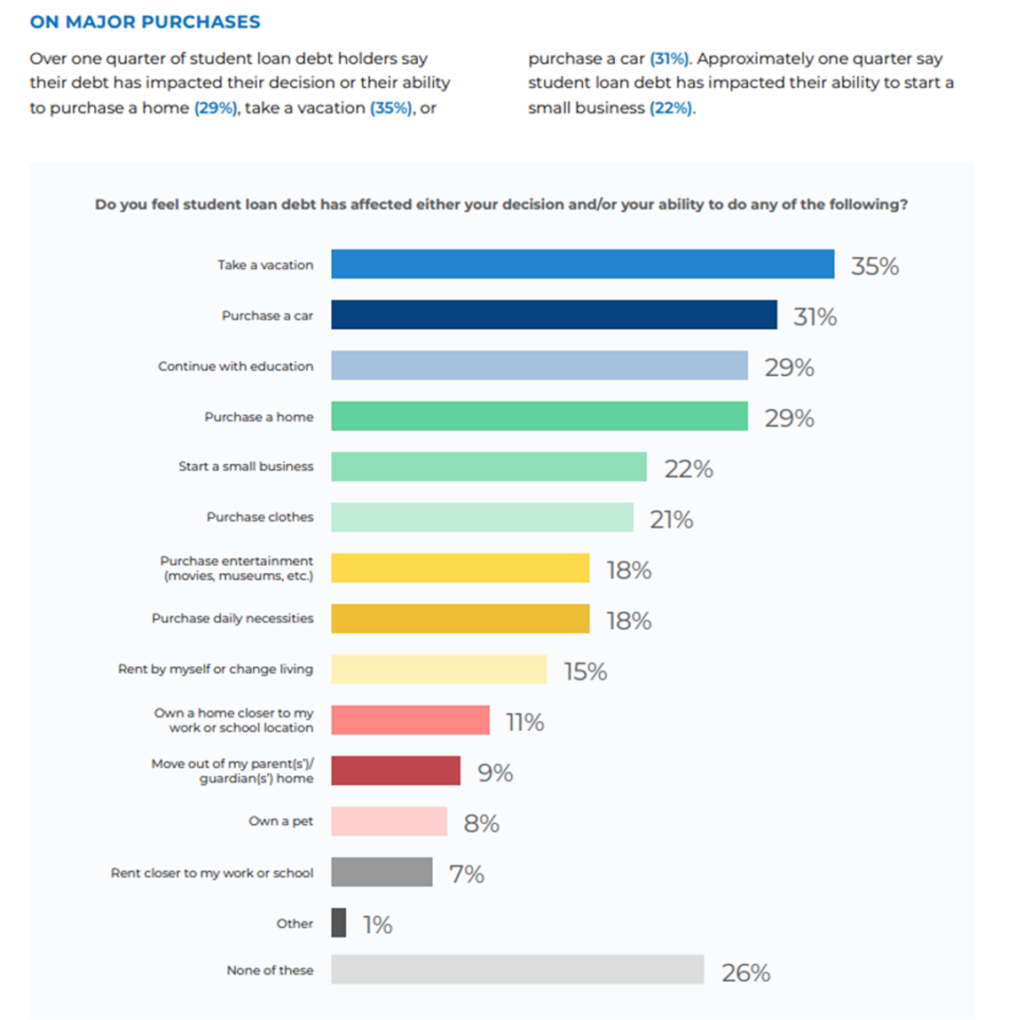 Servicing Confusion
Adding more complexity is that many servicers have changed since the moratorium went into effect. A report from the Consumer Financial Protection Bureau estimates that over 40% of borrowers will have a different loan servicer than they had prior to the pause.
This means there could be confusion and even missed payments once payments resume, which could also hurt the credit rating of borrowers. These factors are likely to trickle down into the housing market and could put a further strain on those trying to qualify for a mortgage, especially first-time home buyers.
As a borrower, the best thing to do is to prepare. Checking which servicer and how to make payments prior to the deadline is critical, as well as budgeting for the additional monthly expenses.
Mortgage originators can also help by understanding and empathizing with their clients – a few simple questions to better grasp a client's scenario could be the difference between them qualifying for a mortgage or not!
Divisional Vice President Nathan Kyle and Crew Operations Director Jeremy Bennett recently visited our friends at Total Residential Lending in Miami. 
Rocket Pro℠ TPO's Home Equity Summer Sizzle is in full swing with only 2 weeks left to save your clients $795! Home values are still at historic highs – this limited time offer can help your clients meet their financial goals without refinancing. Whether they are looking to pay down expenses, consolidate debt or pay for home renovations, the choice is theirs.
Partners, talk to your clients today! Offer ends on August 6.
Not a Rocket Pro TPO Partner? Sign up today! 
Sign up for Pro Talks, taking place July 26 at 4:00 p.m. ET with Dr. Rick Rigsby: internationally acclaimed speaker, bestselling author and journalist. Catch his transformative podcast, How Ya Livin'? – encouraging people to achieve the impossible! 
Hey Fawaz! 👋 What are the updates with VA?!


Solvers flew through last week's puzzle – sub-2-minute and sub-1-minute times all over! Mike B. ended up with the best score of them all with a time of 19 seconds.
This week's puzzle gets 3 out of 5 Rockets. Click here to solve!