Rocket Fuel Newsletter – 07/16/22
Have we talked about inflation lately?
This week's Rocket Fuel includes insight on the latest inflation reports and how to stay positive and patient amid the fallout of the latest inflation reports.
Fuel Up! 🚀  
 
Biz Buzz 
Inflation Reaches Four-Decade High, But Good News Ahead?
Annual consumer prices rose 9.1% in June 2022 vs. June 2021, which is the largest jump since November 1981. If you've filled up your gas tank anytime in the last 45 days, it shouldn't be a surprise that June's surge was driven by gasoline (11.2%) and natural gas costs (8.2%).
As stunning as the report is, it's not all bad news. Gas prices have fallen from their record highs in June, and there are real signs that our current inflation levels are strictly temporary (see Caffeinated Trends below).
Major League Baseball Salaries Soar Out Of The Park
Next Tuesday brings the annual MLB All-Star Game festivities, this year hosted by the Los Angeles Dodgers. With money on the mind, it's hard not to think about MLB salaries and just how exorbitant they have become over the years.
Until the first $1,000,000 contract was awarded in the 1980s (Nolan Ryan), the best players earned 13-14X what the average U.S. household earned (in red below), and the average player earned around three times the average household (in black below). 
That all changed in the 1990s - Robin Yount's $3.2M contract pushed the best-player multiplier to nearly 107 times the average U.S. household income. The average player saw a large bump too – suddenly the average salary was nearly 20 times the average household.
That trend has continued through today, as the Mets' Max Scherzer and his $43.33M salary is a preposterous 641 times today's average household income, and the average salary of about $4M per year is nearly 60 times what the average household brings in.
Get ready, Washington Nationals fans, Juan Soto's mega-contract is coming up next. Could he be the first $50M/year player in MLB history? 
Caffeinated Trends
Inflation and interest rate dynamics can get nuanced.  
Inflation is too high, and as they work to bring it back down to their ideal 2% mark, they must also balance price stability and maintaining full employment.
Inflation expectations came down this week as consumers are pricing in slowdowns in the housing market and the stock market decline as signs that the Fed's interest rate hikes are having their intended effect to cool inflation fears (and prevent inflation expectations from being psychologically embedded).
Gas prices have also taken a pause in their jump higher, retreating into the mid-$4's. 
The inflation readings released this week are from June, before prices at the pump fell – if that trend continues, we should see inflation drop in the coming months.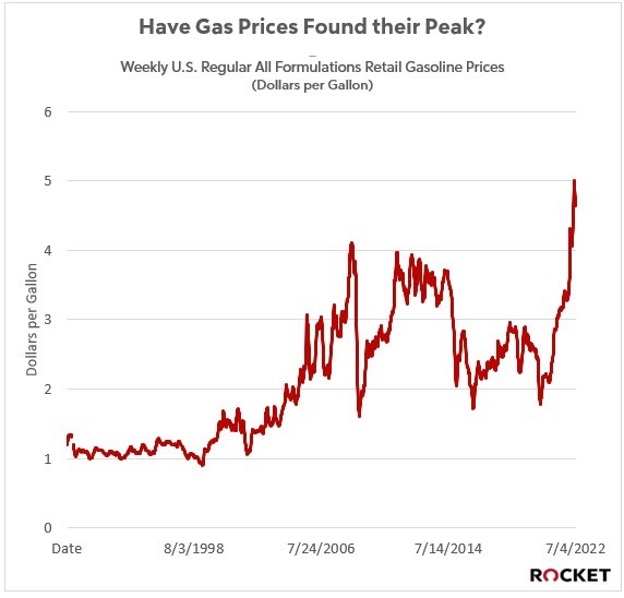 While many headlines focus on Wednesday's Consumer Price Index of 9.1%, that number includes the soaring energy costs.  
Outside of food and energy, the typical basket of goods has risen 5.9% over the last year – slightly higher than expectations.
However, if we look at the long term, bond market traders are pricing in an average rate of 2.5% over the next 5 years – just above the Fed's target of 2%.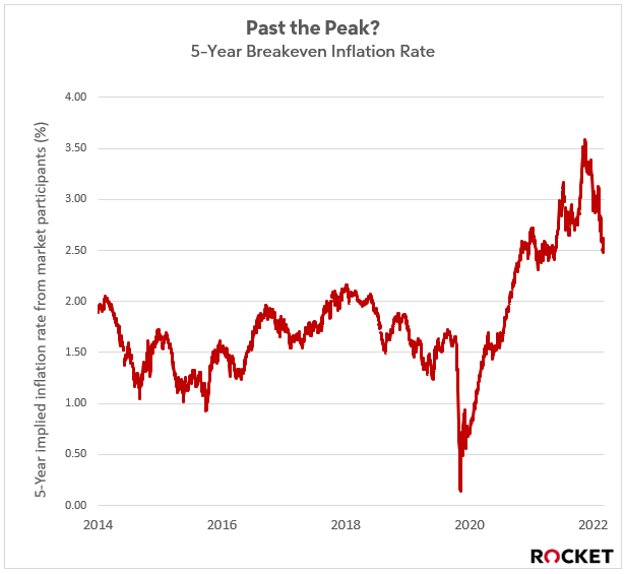 The Fed likely knows that raising rates by larger than normal increments will draw attention and communicate to the public that they are serious about stemming inflation.  

Jerome Powell is trying to regain the confidence of investors, because perception is reality, and some people are still upset about the use of the word "transitory" to describe inflation.  
Signs are showing inflation starting to subside – so, inflation still looks to be temporary. It's just requiring more patience.  
In The Weeds Reads 
Pro Puzzles   
Ali was our top solver last week at 1:01, two seconds ahead of John F.'s 1:03. In total, 13 people finished in 2 minutes or less.
Diehard Pro Puzzles fans may remember this puzzle from April that had the wrong link. We've brought it back in anticipation of next week's MLB All-Star Game and have given it 5 out of 5 Rockets – a true all-star experience!