Rocket Fuel Newsletter – 07/15/23
Stoke the artisan campfires and break out the gold-laced s'mores, because billionaires from across the world have descended upon Sun Valley, Idaho, for this year's "billionaire summer camp."
In normal-person news, inflation and consumer sentiment results dropped this week, plus vital data about the health of the housing market.
Fuel Up! 🚀

Large Cities Continue To Lose Young Families 
Since the start of the pandemic, young people have been fleeing urban areas across the country. A recent Economic Innovation Group (EIG) analysis has revealed that large urban counties have seen a 2.9% decrease in population growth in children aged 0 – 4, significantly outpacing the total population.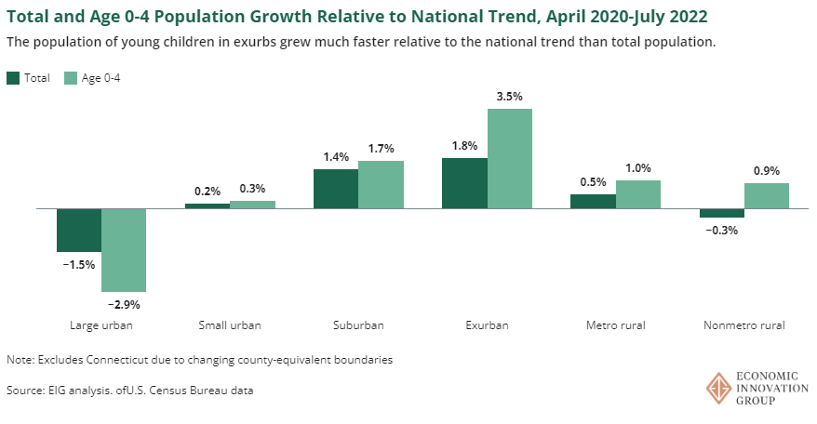 The prevalence of work-from-home jobs has allowed families to choose where they live, irrespective of the location of their employers.
Cooling Inflation Is A Light At The End Of The Tunnel
June inflation numbers came in this week showing a Consumer Price Index increase of 3% over the past year. This is the slowest pace since 2021, coming as a relief to consumers recovering from sticker shock experienced over the last 2 years.
The Federal Reserve has been attempting to bring inflation down to 2% by steadily raising interest rates – 5% since March 2022. While the June numbers are certainly a step in the right direction, Fed policymakers are still expected to go through with another increase later this month. Once a trend of lower inflation is established, we can expect to see the rate hikes come to an end.
Consumer Sentiment Up 
Consumer sentiment jumped up to 72.6 in July, a 13% increase from 64.4 in June, according to the University of Michigan. A high consumer sentiment indicates Americans are optimistic about their finances and the state of the economy. While the outlook is generally positive, a more comfortable consumer can also lead to increased inflation as spending increases.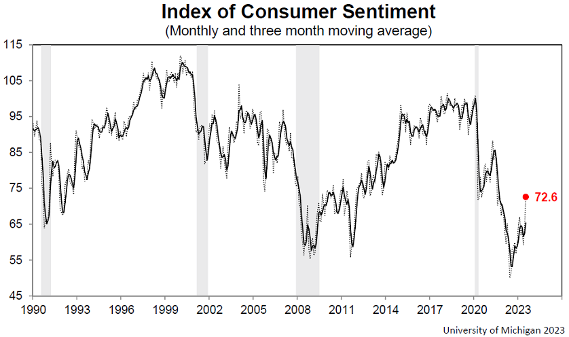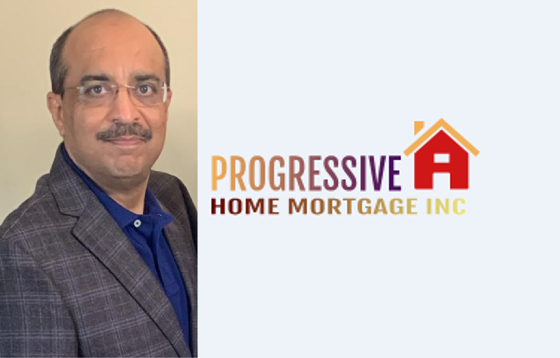 Tejas Shah, Progressive Home Mortgage
Tell us about some of your biggest lessons you've learned in your tenure. 

Being truthful & always trying to work in the best interest of your clients – this is going to reward you in the long run. I had a number of instances where I gave the buyers advice and options, and I have seen them work like family with me. In turn they helped me by sending their referrals of family and friends, which has gone a long way in helping build our company brand. 

What are some of your goals? 

We want to make Progressive Home Mortgage the number one brand in the state of Georgia, and eventually expand nationally in the next 2-3 years. Unparalleled customer support and service is the main thing our company strives for. 

What's one thing you want to tackle this year personally and professionally? 

We want to focus and expand on FHA and VA loans as we have not aggressively gone after this type of business. Personally, I want to continue to support my daughter in school and my recently graduated son as he navigates the insurance business.

What is something you are incredibly proud of within your business? 

Being a Top Georgia broker with Rocket Pro TPO in 2020 and 2021 after only being on my own for a couple of years at that time. 

How would you describe your brand? 

My brand exudes honesty and efficiency. 

Why Rocket Pro℠ TPO? 

They have been there since the start and have given me unparalleled support to be able to hit the ground running. The process, speed, and willingness to listen are unmatched. I have had the same AE for almost 5 years now since the day I opened, and he has made a huge difference in my business.

So Much For The Dip In Home Prices
Black Knight's Home Price Index (HPI) shows that seasonally adjusted housing prices have hit a new all-time high in May 2023, just months removed from the price dips that happened late last year. These trends are not just on a regional level – across the country, home prices have risen in almost all major markets.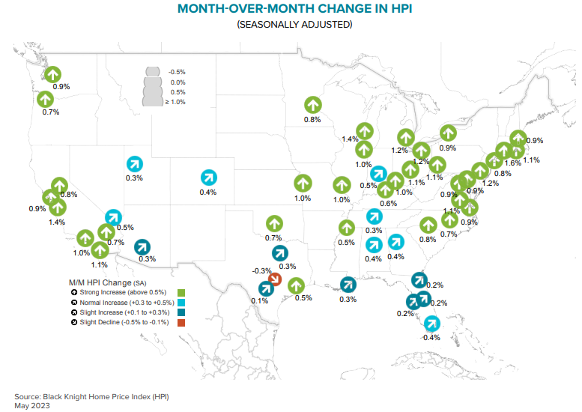 How does this data tie into larger economic trends?
Higher interest rates tend to lower demand for purchasing a home, which in return lowers home prices, because buyers qualify for less. This is why it is surprising to see home prices increase as interest rates have risen this year.
The increase in home prices (HPI) has come at a time when the inventory of single-family homes continues to hover around its lowest points in the last 20 years (see black and green lines below).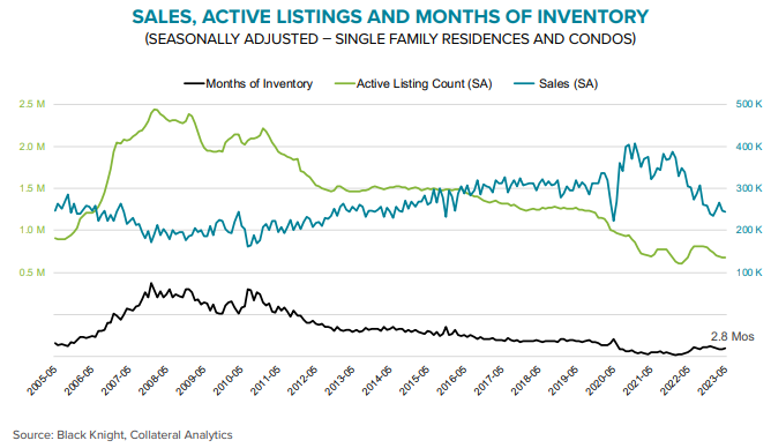 This is straightforward supply and demand – with a smaller supply of homes on the market, and no decrease in overall demand for homes, sellers can bump up prices on their homes.
Combine the lock-in effect of high rates for new mortgages relative to existing mortgages with an already low housing supply and it is reasonable to assume home prices could stay where they are or even increase as we head into next year as hesitant buyers realize waiting might be futile and jump back in to bid. 
It was a big week for Fawaz out in Arizona! Fawaz hosted IGNITE Live on Tuesday from our Arizona office, and then visited many of our great partners in the area, including our good friends at NewMortgage LLC.

It's been an awesome quarter working to bring in new products and delivering training to our broker partners to help them provide the right loan options for their clients. Catch the IGNITE Live replay to hear all the details from Fawaz.
Have you heard about our Home Equity Summer Sizzle yet?! We are waiving the $795 origination fee1 now through August 6. Talk to your clients TODAY!
Hey Fawaz! 👋 Can you recap IGNITE Live⁉️


We had great times on last week's puzzle – out of the 15% of all solvers who finished in less than a minute, leaderboard mainstay Josh Wescott's time of 24 seconds was the week's best time. 
This week's puzzle gets 2 Rockets out of 5. Click here to solve!