Rocket Fuel Newsletter – 07/08/23
The Major League Baseball Home Run Derby takes place in Seattle on July 10. Last year, baseball's top sluggers hit 22.9 miles worth of home runs during the derby, which if laid end to end would span the entire Long Island Sound between New York and Connecticut. Can they beat that mark this year?
Fuel Up! 🚀

A Boom In Construction (Manufacturing) 
Housing isn't the only area seeing a construction surge – it's been happening in electronic manufacturing construction too. Stemming from supportive policies like the Jobs Act (IIJA), Inflation Reduction Act (IRA) and the CHIPS Act, the below graph from The U.S. Department of Treasury shows just how large of an impact this has had on construction. 
The Economy Moves South
It is estimated that there has been a $100 billion wealth migration to the Southeast as millions have moved south in the past 2 years.
Moving trends are less directed toward coasts and bubbles and rather are state-specific. The visual below from Axios shows how each state's GDP has changed over the past 10 years.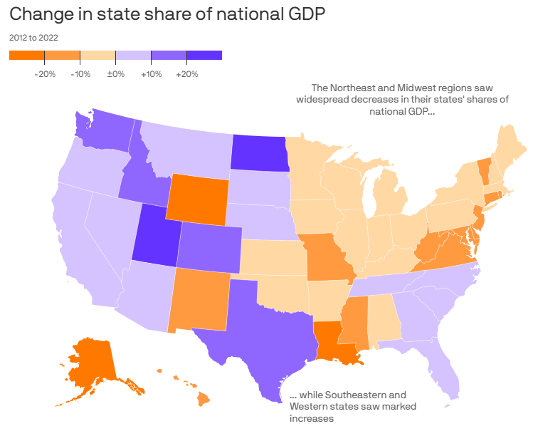 Mixed Results From Jobs Reports
Jobs reports threw economists for a loop this week between the private sector and non-farm payroll reports released this week. Noise aside, this is the 30th consecutive month of job growth, dating back to the start of the pandemic.
In the private sector, 497,000 jobs were added in June, more than doubling economists' estimates of 220,000 jobs.
Non-farm payrolls came in under expectations at 209,000 jobs added in June versus the estimated 225,000.
Unemployment hit right on expectations at 3.6%.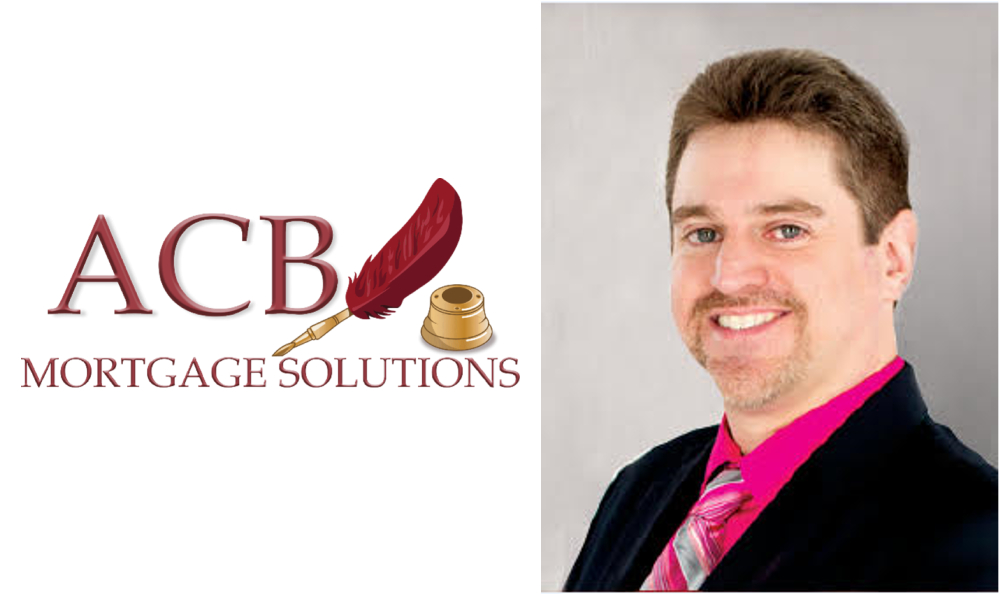 Cliff Bowyer, ACB Mortgage Solutions
Tell us about the beginning of your career. What got you started? 

I used to work in Corporate Finance, running multi-million dollar global projects. While I had a stellar reputation and was making a name for myself and doing great, I also felt like I wasn't really helping anyone. I began dabbling in Real Estate Investing, and it was actually one of my key Realtors who asked me if I even considered being a loan officer. 

I passed my exam quickly and easily and was eager to get to work and start rebuilding the future for my daughter and me. But I always got the impression that they weren't ready for me yet. I wasn't really getting support in my branch and took my [first] clients with me to a Brokerage, and they were my first loan. I stayed there straight through Covid when we had lost our Processor and files began slipping through the cracks. I decided there to start my own Brokerage and with the goal in mind to do it better and to provide more than anything I had gotten at either previous company. 

What's your niche in your market? 

I've done a pretty decent job of diversifying and making sure we have solutions for all of our clients. We don't just look at residential purchases, or only refinances during the boom, but rather make sure we have a wide array of programs and products. 

My marketing efforts, however, very much favor my roots. Both of my parents were teachers, and I am very active with the schools as an officer in the PTO. Anything I can do to help give back to the people who help shape the lives of our children is most definitely a focal point of mine. 

How do you want to grow your business? 

I'm really looking at growing our business in three key areas: 

First, expansion into other states. We began at the end of 2022 and are already researching other states that we potentially want to go into in 2023 or the future. 

Second, add in more loan officers in each state where we are licensed. A lot of the people we're bringing on have industry experience, but have not been Mortgage Loan Originators before, so we put together a full training program and approach and put personnel in place to guide them until they are ready to take on more flexibility and freedom that comes with being a loan officer. 

Third, I'm being very aggressive with marketing in each state we're licensed in and have an established team in place to answer phones, begin files, and then pass them along to myself and the rest of the Operations Team. 

What is something that you are incredibly proud of within your business? 

It all comes down to the team. A lot of people say it, but my team lives it: we're a family. We all care about each other, we all help each other out, we all push to see each other succeed. I am incredibly proud of my team, from those who were brand new and started this journey with me, to those who came in with a wealth of knowledge and experience, to those we're training and mentoring and developing along the way. 

What do you feel would take your business to the next level? 

I feel that there always needs to be a good blend between technology and the human element. If it's all technology, then we lose everything that we're striving to achieve in terms of helping people. If it's all human interaction, then we're bogged down in follow-ups, verifications, trying to get people on the phone. 

I am always exploring technology and what could help make us even more efficient with how we do things. I believe in always learning, always expanding our horizons, always working for a better tomorrow than today. 

Why Rocket Pro℠ TPO? 

I love the people I am working with. Unlike some lenders, I have never felt pressure to submit more files or more business. Special shout out to Kimani Kyles, our Account Executive; our conversations are deep, meaningful, full of substance, and I have the utmost confidence with him as our Account Executive. 

Of course the tech, the speed, the communication, the rates, the programs, the resources, the support, the credit reports, the [Credit Upgrade], the marketing tools, the affiliate partners, and more don't hurt either, but I'll stand by my respect and admiration of the people at Rocket and how much they push to help support us on a daily basis. 

What is your "why"? 

My why comes down to two things, my natural drive, but also my daughter. Everything I do is for her, and there isn't a single person who knows (or works) for me who would not agree. She is the reason I push for a brighter tomorrow. And if I can end with a little trivia insight, our company is ACB Mortgage Solutions. What does the "ACB" stand for? Audrey & Clifford Bowyer – my daughter and me.

Detroit was the center of the golfing world last weekend, and several of our partners joined the Rocket Pro TPO leadership team for a weekend of golf and camaraderie.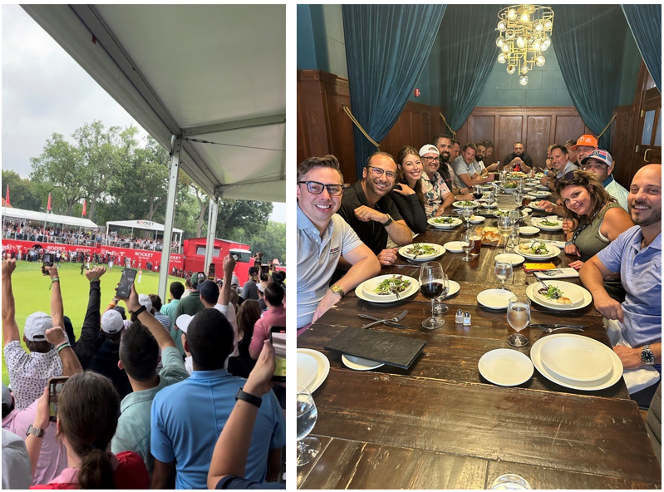 Pro Talks Speaker Announced!
Internationally acclaimed speaker Rick Rigsby will join Fawaz for Pro Talks on July 26 at 4:00 p.m. ET! Sign up here!
Get prepared by watching his powerful speech on his father's teachings that have inspired his life.
Hey Fawaz! 👋 When's the next IGNITE Live⁉️


Last week's "par 4" puzzle was a longer, more treacherous par 4! Congrats to Emily Schemanske, Josh Wescott and Zach A for powering through in less than 3 minutes – Josh's time of 1:18 was the winning time, followed by Emily's 1:41 and Zach's 2:19.
This week's puzzle gets 3 Rockets out of 5. Click here to solve!