Rocket Fuel Newsletter – 04/22/23
Happy Earth Day! What is the world record for the most trees planted in a 24-hour span? Check your answer here. 
In this edition: Real wages increase for the first time in 2 years, data defines "middle class," and a literal example of living under a rock.
Fuel Up! 🚀

Stuck In The Middle 
Finance site SmartAsset examined Census Bureau household income data to determine what constitutes the United States' middle class. At a state level, middle class ranges from just over $32k per year all the way up to over $60k per year! At a city level, Fremont, California, tops the charts with a middle class annual income ranging from $104.5k – $312k. 
Check out the full report here! 
The Rise Of The Breadwinning Wife
According to the Pew Research Center, the share of egalitarian marriages – marriages where both partners earn between 40% and 60% of the household earnings – is on the rise. Since the 1970s, the percent of opposite-sex marriages where the wife is the primary or sole breadwinner has been steadily on the rise.
500 Days In A Cave 
Do you ever feel like crawling into a hole and escaping humanity? Spanish athlete Beatriz Flamini did just that for the last 500 days – and described it as "unbeatable" and "excellent." 😨 
Hey Fawaz! 👋 How are partners saving money every day using Rocket ProSM TPO?!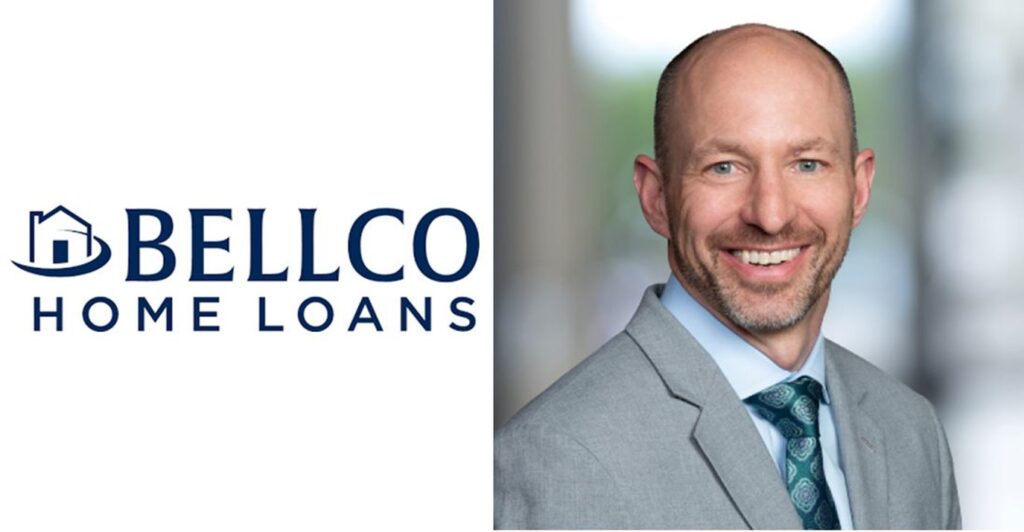 Dale Syta, Bellco Home Loans
Tell us about the beginning of your career. What got you started?

It must have been 1999 or 2000; I was managing a Ruth's Chris Steak House. I kept seeing a group of young people coming in and spending a lot of money all the time, and I was curious about what they did for work. I was looking for a career change, so I started talking to them when they would come in. 

Long story short, I told them I wanted to do what they did. Not too long after this, I was handed a printed rate sheet and three phone numbers. I was a hustler, so I hit the ground running and had a very good first year. 

Tell us about some of the biggest lessons you've learned in your tenure.

Consistency over time is the key. So often loan officers are looking for that instant gratification and lose focus on getting better every day. If I were a stock that was trading, I would want my value to increase every single day. If you move the needle every single day, your career will flourish; not everything needs to be a grand slam.

What is one thing you wish you knew when you got started?

I wish I used a CRM and kept a better tab on my closed book of business. I was so focused on new opportunities and conversion management that I didn't spend as much time on client retention and the future of the business. I was of the mindset of being transaction-based, not relationship-based. Relationships are the most important thing in this business.

What's your favorite thing about being in this industry?

At this stage in my career, over 20 years later, I take immense pride in the development of talent. Bringing new people into the industry and watching them flourish, whether it's at my company or another, is what keeps me going. I love being involved in the start of people's careers, I think this makes the industry healthier. 

What's one thing you want to tackle this year personally and professionally?

The biggest obstacle for us this year will be managing the peaks and valleys. The producers need to be more consistent in the market and really home in on relationship growth. Growth in the market is key, so we're also hoping to add four to five loan officers by year's end.

Wage Growth Is Real Again! 
As the Fed has continued to fight the good fight against inflation by raising interest rates, they've had to keep an eye on the other part of their dual mandate from Congress – full employment.
With the unemployment rate holding below the long-term average at 3.5%, some might say this challenges the narratives of an impending recession.
It's not just whether people have jobs that drives recessions, it's whether consumers are spending, since ~70% of the total output (GDP) of the U.S. economy stems from consumer spending.
While consumers have continued their spending spree beyond what many economists had originally projected, they've had to level up their credit cards to do so – so there's a limit.
Last week's retail sales report showed a 1% drop in consumption month-over-month, while consumer sentiment ticked up slightly. However, more consumers in this survey were concerned about inflation.
Here's the good news for them:
Real wages (aka wages adjusted for inflation) are up year-over-year after declining for the previous 2 years.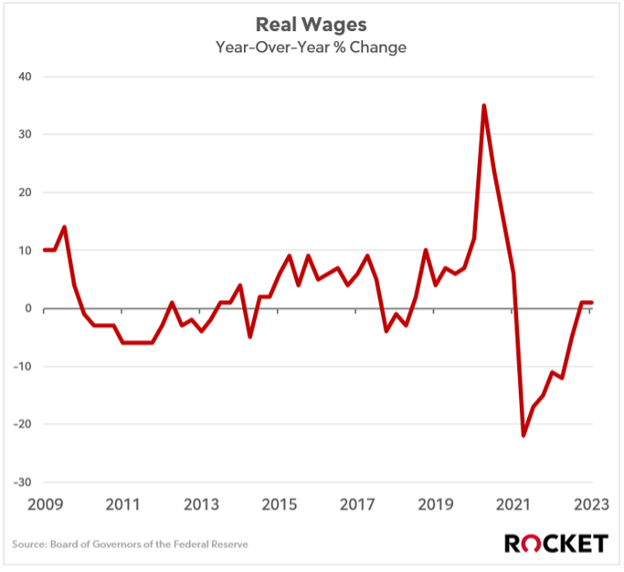 Some thought the Fed would hold off on additional 0.25% rate hikes due to the banking crisis and recession narratives.
However, this employment/consumption indicator may give the Fed confidence that they can keep rates higher to root out inflation (which showed its continued decline last week), without as much adverse risk.
Our sales team is traveling the country, sharing the latest Rocket Pro TPO innovations and collaborating with partners in their own backyards!
This week, Divisional Vice Presidents Nathan Kyle and Jeremy Bednarz-Gray stopped in Warminster, PA, to visit our friends at Global Mortgage Network, Inc.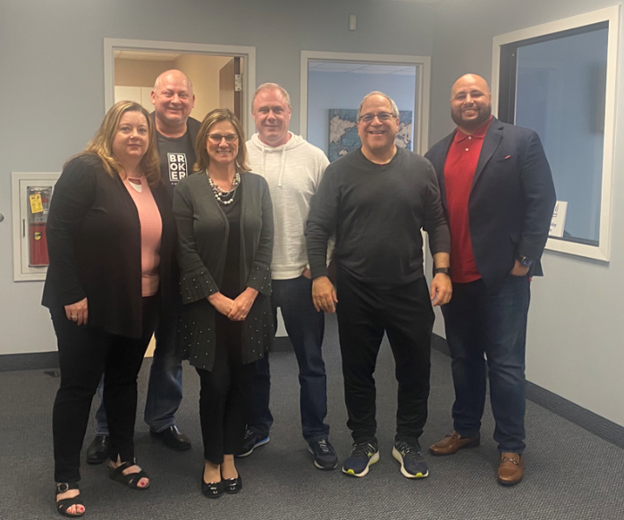 Looking for more great content from us? Follow us on YouTube and discover how we bring the ultimate mortgage experience to your clients every day.

James Schneider, JS and Bob Simon all completed last week's puzzle in under 30 seconds. Bob's time of 18 seconds was 10 seconds faster than the other two – congrats to Bob on the bragging rights!
This week's puzzle gets 2 out of 5 Rockets. Click here to solve!