Rocket Fuel Newsletter – 01/14/23
Mark your calendars! In-N-Out Burger is coming to Nashville in 2026 as part of an eastward expansion plan. That puts the iconic fast-food chain within a day's drive of the entire eastern seaboard!
This week's edition includes a breakdown of this month's inflation numbers, a recap of IGNITE Live and some good stuff happening in the housing industry.
Fuel Up! 🚀

Rocket Pro℠ TPO Hosts First IGNITE Live!
ICYMI! Mortgage professionals across the country watched our new EVP, Mike Fawaz, and several guests break down the wins from 2022 and share their excitement for 2023, LIVE, in front of a packed house in Detroit. Fawaz made three big announcements:
Fee Freedom: We're proud to continue providing partners credit reports at no cost.
VA Purchase 25: A 25 bps LLPA credit for VA purchases starting January 9 through January 29, 2023.1
Verified Approval: Coming January 17: a physical preapproval letter that has credit, income and assets verified by underwriting and is generated in under 24 hours!2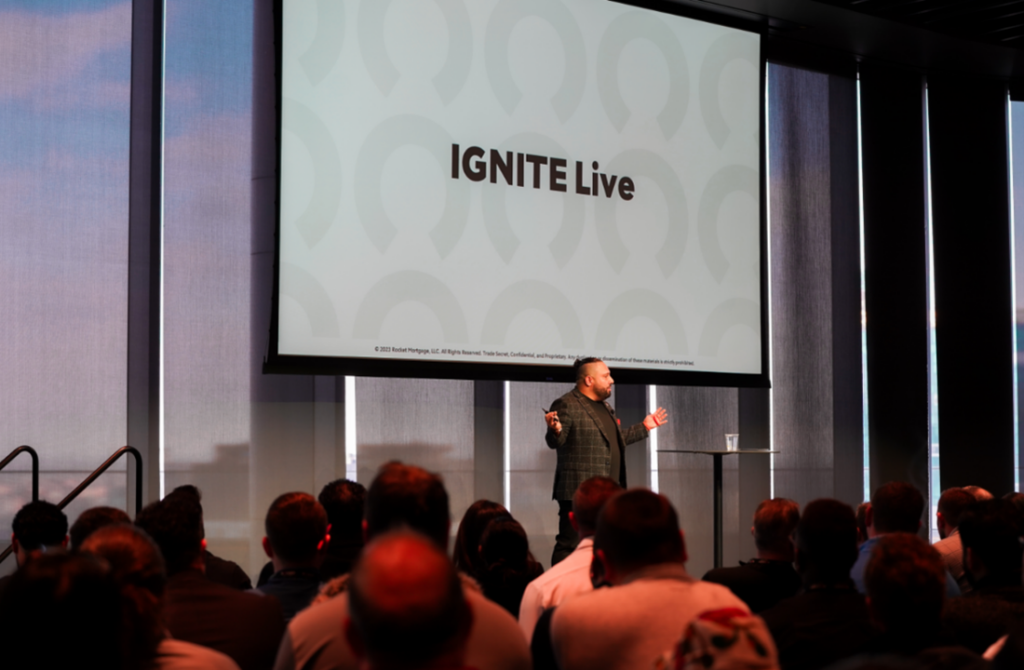 Creative Solutions To Complex Housing Issues

Salvation Army Now Accepting Gently Used Office Buildings
You've likely donated clothes or house goods, but an entire building? A doctor-run real estate firm in St. Paul recently donated one of their vacant office buildings to the Salvation Army to be converted into affordable housing.
Flipping The Work-From-Home Concept On Its Head
With permanent remote work becoming more standard practice, office buildings are going unused. New York City Mayor Eric Adams recently unveiled his plan to turn vacant office buildings into 20,000 new apartments.
The Cost Of Returning To The Office
As many people start to return to their offices, traffic congestion has started to bounce back. According to INRIX, the average American driver spent 15 more hours in traffic in 2022 than in 2021; INRIX estimates these additional hours led to an average loss of $869 per driver in the U.S.

Though congestion levels are still only half of what they were pre-pandemic, frustration levels have returned to "Office Space" norms for many.

It's been a big week for economic news with CPI (Consumer Price Index, a.k.a. inflation) being released on Thursday!
The CPI release had good news for us. Below is a graph from the Bureau of Labor Statistics on inflation data for the past year.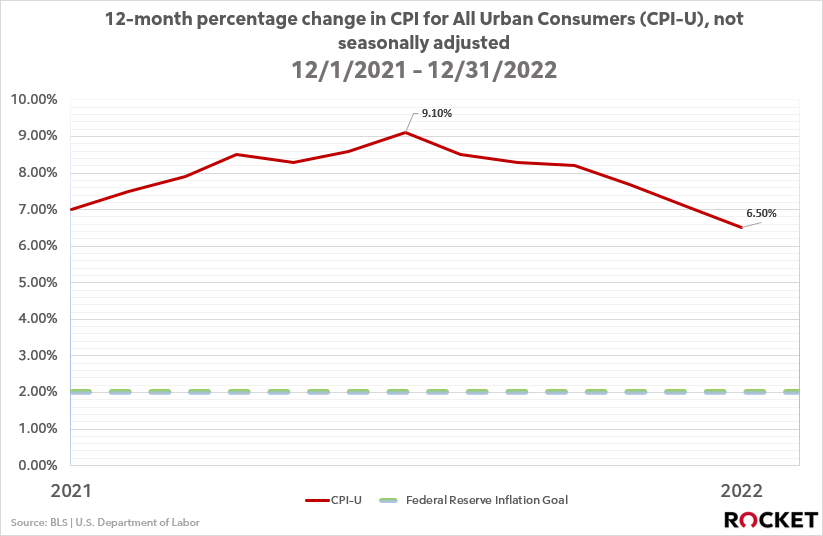 With inflation taking over news outlets for all of 2022, it is good to see that there has been a 6-month decrease since June. The gradual decrease indicates that the Federal Reserve's several rate hikes have been working to lower the rate of inflation from its decades-long high mid-year.
So, will the Federal Reserve lower rates because of this?!?
Signs point to no, as the Fed has been firm on their stance of getting inflation down to 2% or below and CPI is currently at 6.5%.
If anything, we will still see the Fed continue to raise rates in 2023, just at a slower pace than in 2022.
The good news is we have you covered with Inflation Buster! and a host of other products for home buyers (purchase cheat sheet ➡🏡).
It's been a big January for our Rocket Pro TPO team! Prior to our first IGNITE Live sales call, channel leaders gathered on Friday, January 6, at All Systems Go. Fawaz shared his vision for 2023, awards for 2022 were distributed, attendees presented ideas to a "shark tank" of RPTPO leaders, and Rocket Mortgage President Tim Birkmeier joined Fawaz for a fireside chat.

Last Chance To Capitalize On These Offers!
Our remaining December to Remember offers will expire January 31, 2023. Visit Waymark and use the free code RKTTPO at checkout to craft your professionally created video.
Fast 15 Guarantee promises all eligible loans will be clear to close in 15 business days, or we pay your clients $2,500!3 Hop on the portal, lock in loans and compete stronger with this guarantee!

After a week off of the leaderboard, Josh Wescott returned to the top spot with a time of 31 seconds on last week's puzzle. His closest competitor was Ali, who finished just two seconds behind.
This week's puzzle gets 2 Rockets out of 5. Click here to solve!
1 Client will receive a 25 bps credit as a LLPA on any VA purchase loans locked through the Rocket Pro TPO portal during the promotional period. Offer valid from January 9, 2023, at 10:00 a.m. ET to January 29, 2023, at 11:59 p.m. ET. Offer only valid on qualified VA purchase loans. This offer cannot be retroactively applied to previously closed loans or previously locked loans. Rocket Mortgage reserves the right to cancel this offer at any time. Acceptance of this offer constitutes acceptance of these terms and conditions, which are subject to change at the sole discretion of Rocket Mortgage. Offer may not be redeemed for cash or credit and no change will be given if the discount amount exceeds costs otherwise due. Offer is nontransferable. Not valid with any other discounts or promotions. This is not a commitment to lend.
2 Participation in the Verified Approval program is based on an underwriter's comprehensive analysis of your credit, income, employment status, assets and debt. If new information materially changes the underwriting decision resulting in a denial of your credit request, if the loan fails to close for a reason outside of Rocket Mortgage's control, including, but not limited to satisfactory insurance, appraisal and title report/search, or if you no longer want to proceed with the loan, your participation in the program will be discontinued. If your eligibility in the program does not change and your mortgage loan does not close due to a Rocket Mortgage error, you will receive the $1,000. This offer does not apply to new purchase loans submitted to Rocket Mortgage through a mortgage broker. This offer is not valid for self-employed clients. Rocket Mortgage reserves the right to cancel this offer at any time. Acceptance of this offer constitutes the acceptance of these terms and conditions, which are subject to change at the sole discretion of Rocket Mortgage. Additional conditions or exclusions may apply.
3 Client will receive a lender credit of $2,500 if client's loan is not cleared to close within 15 business days of a new wholesale purchase loan application submission through a Rocket Pro TPO broker. Offer excludes VA and FHA loans. Offer not available in Alaska, Hawaii, Idaho, Iowa, Maine, Massachusetts, Montana, Nebraska, New Hampshire, New Mexico, New York, North Dakota, Oklahoma, Rhode Island, South Dakota or Vermont. Offer not available on multiunit houses, condominiums, co-ops or new-construction loans. Offered on loans registered between December 12, 2022, and January 31, 2023. Broker/client must submit all required documentation for final review by the 13th day before the end of the offer period for loan to qualify for the offer. Appraisal must be ordered within 24 hours of the loan being submitted to underwriting. Partner must have title fully cleared by the final day of the offer period. Client is only eligible for the $2,500 lender credit if Rocket Mortgage is solely responsible for failing to clear the loan to close by the offer period. If the loan fails to close outside of Rocket Mortgage's control for any reason, including, but not limited to, new information that changes the underwriting approval decision to a denial of credit request, lack of satisfactory insurance or appraisal, title issues, or client disengagement or refusal to respond, then the client is not eligible for the $2,500 lender credit. Rocket Mortgage reserves the right to cancel/modify this offer at any time. Offer is nontransferable. This is not a commitment to lend. Additional restrictions/conditions may apply.