Rocket Fuel Newsletter – 12/22/21
As we say goodbye to 2021 – 20% of the 2020s is over.

If the 80-20 rule is any indicator, the best is yet to come!
This edition reflects on a year where traffic jams were still light, but ship jams and logjams hit close to home.
Fuel Up! 🚀 
The Market - Year-Over-Year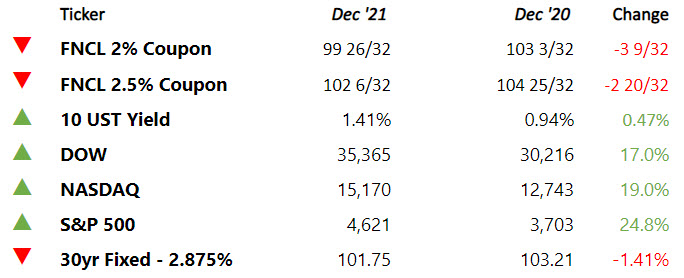 Market Moving Releases
Stimulus year 2 kept markets glued to Jerome Powell's press conferences to gauge the taper timelines of treasury and mortgage bond purchases by the Fed. 
Investors also kept an eye on politics even after the election to understand what fiscal policy would come out of Congress to bridge through the end of the pandemic.  

Vaccination and variants took the market on a psychological roller coaster, bringing about volatility as more info surfaced.  

Inflation shot up after years of central banks discussing how difficult it was to generate price growth. 
 
The supply-side pressures have not subsided as quickly as the Fed thought, and now the Fed has retired the word "transitory" from their inflation adjectives.   
 
#SupplyChain 
Mortgage Milestones
Inventory hits all-time lows as demand continues to outpace new supply.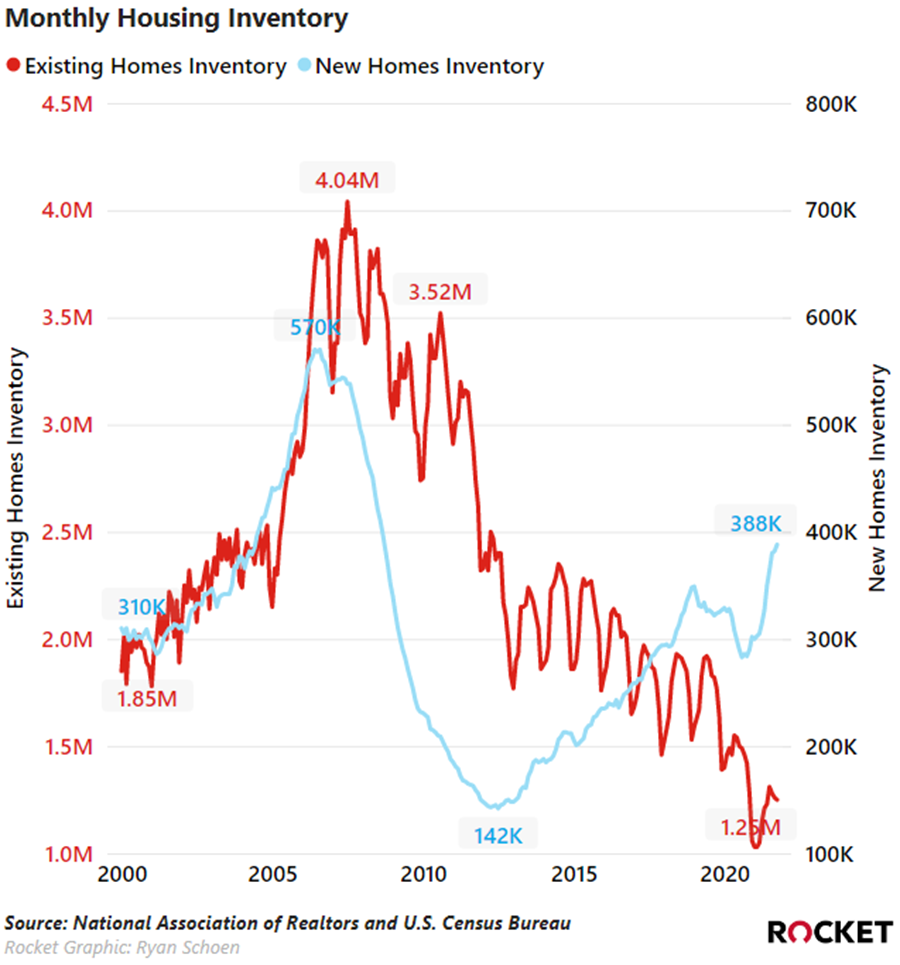 The mortgage industry followed up its banner year in 2020 with an even bigger 2021.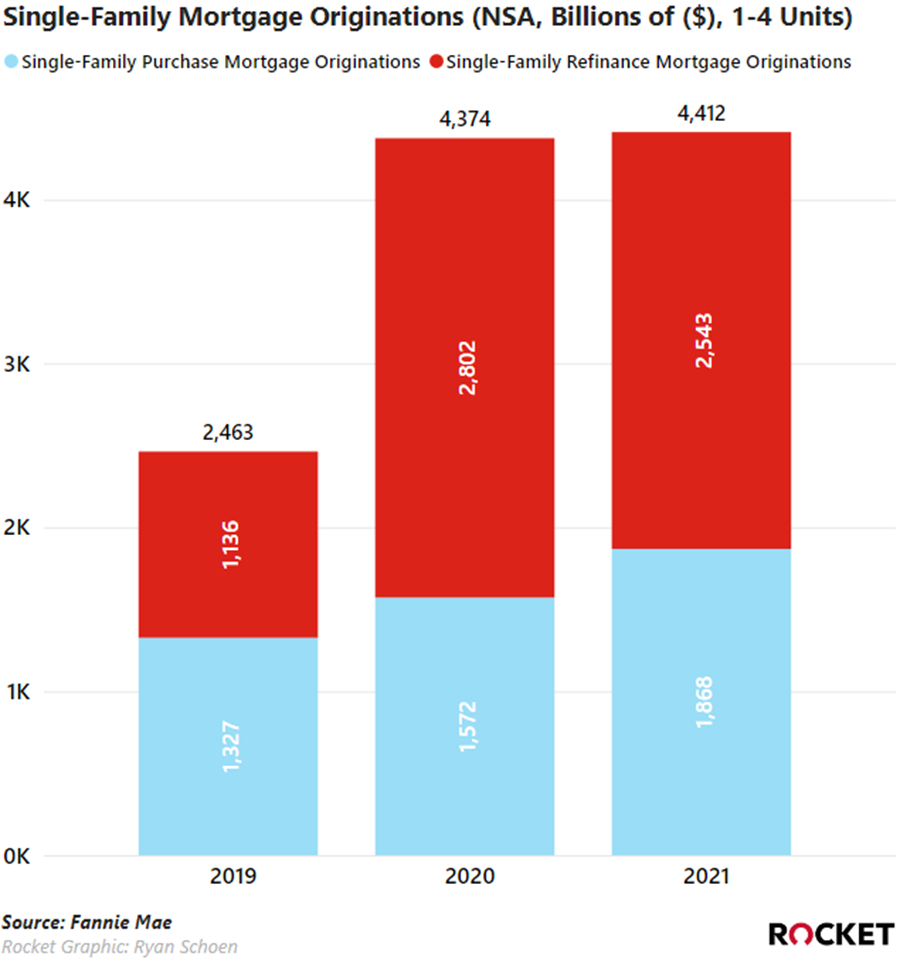 Year of the Doge
Although Tesla put Bitcoin on their balance sheet and became legal tender in El Salvador, 2021 was the year of the Doge. Time magazine even gave Elon Musk the "person of the year" designation.  
 
If you bought $100 of Dogecoin this time last year and sold it when Elon hosted SNL, you would have $15k+ – if you held until today, it would still be a nice $3,700. 
 
If you thought Dogecoin was too good to be true and inflation was going to derail the meme-stonk/crypto train, you likely missed the other Japanese hunting dog coin. That same $100 in SHIB last December would have yielded you $810k in October and would still be worth $310k today if you HODL'd.   
 
Some think this playbook still has room to run. Will Dogelon Mars be next?
To the Moon
2020 brought more retail investors into the market, with personal savings rates at all-time highs, lots of extra time stuck indoors and one of the most telegraphed stock market dip-buying opportunities up for grabs.  
 
2021 highlighted how technology is changing the playing field and giving everyday folks a seat at the table.  

We saw social media play a new role in uniting capital from a bunch of smaller investors behind a particular trade – where short sellers were over-selling GameStop and AMC and Redditors banded together to squeeze the shorts and drive share prices higher.  
 
This GameStonk phenomenon also highlighted some of the underlying wealth gap sentiment that's contributing to political polarization. 

Want to help brokers just like you take full advantage of their partnership with Rocket Pro TPO? Reach out to your Account Executive and you could be in a future Partner Spotlight!
Space Jam
Bored of being cooped up on Earth in 2020, billionaires Jeff Bezos' and Richard Branson's respective space companies launched their first tourist flights in 2021.
The entrepreneurs faced public criticism for spending money on sending people to space "for fun" instead of helping fix problems on Earth.  
 
But with the government constantly bickering over the budget deficit and how to keep the government "open," the private sector involvement and funding is key to keep driving innovation in space and technology (which at the very least is important for our world that is globally connected via satellite).
Virtual Reality
Why go to space when you can build your own universe out of thin air?
If you're still trying to figure out where "the cloud" is, the metaverse might still be sinking in.
Not only are "kids" selling JPEGs in the form of NFTs, but virtual properties are being sold. Perhaps the pandemic brought some new vision into what a home can really be.
Rocket Pro TPOSM Year In Review
2021 was a big year for our partners! Keep reading to see our 10 major wins that helped our partners protect, strengthen and grow their business. Here's to an even better 2022!
Clear Choice Findings: Creating ease in originations by giving you control. Compare underwriting systems and choose the system you want to use to register your client's loan. 

Broker Directory: Showcasing you on RocketMortage.com, the most visited mortgage site in the U.S., the Broker Directory drives clients to you, their local mortgage pro. 

Rocket Pro TPO Super Bowl Commercial: We put brokers front and center on the largest stage in America, and USA Today ranked it the #2 Super Bowl commercial for the year! 

New Pricing Calculator With Clear Quote: Run, download and share pricing scenarios with your clients faster and with less work. 

Pro Talk Series: Bringing together successful business professionals and leaders to speak directly to you on knowledge sharing topics. 

Condo Simply: A new, dynamic digital tool in Pathfinder that allows you to search our database for closed condo verifications to expedite the verification step on their loans moving forward. 

Marketing Hub 2.0: A new platform to empower you to maximize your marketing output. 

New REA Protect Tab On My Brokerage Page: Visibility to see your protected real estate agents. 

Rocket Connect Escalation: Get resolutions faster than ever with our 2-hour response time commitment. 

New Client Portal and Conditions Page: Replacing That's My Mortgage, this new streamlined experience gives you control over communications, conditions, and document collection and review.