Rocket Fuel Newsletter – 11/05/22
Will pickle ball be bigger than the NFL? Want to become a celebrity overnight?
And the week that could give you an hour back in your day.
Fuel Up! 🚀

Pickle ball has been taking the U.S. by storm. Some big names have been supporting and investing in the sport (Lebron James, Bill Gates and Tom Brady, to name a few). Why you should start playing.

Elon Musk has officially taken over Twitter. Twitter is now planning on offering the blue check (which usually signifies you are a celebrity) for $8 a month. 

If you live in an area that participates in daylight saving time, enjoy the extra hour on Sunday morning!

Powell's Corner
Following the expected 75 basis point rate hike announced at yesterday's conclusion of the November FOMC meeting, Fed Chair Jerome Powell took the mic to deliver his written statement and answer questions from the media. 
Industry pundits have been questioning whether the Fed has raised rates too fast and have been asking when the Fed will pivot.
Those waiting for a reprieve from tightening monetary policy and hoping for another bout of "free money" to stimulate their 401k growth will have to keep waiting.
Powell was pretty clear that the Fed is taking the "price stability" component of their dual mandate (which includes maximizing employment) very seriously and that they will "stay the course," which includes a "sustained period of below trend growth."
The urgency all comes back to inflation and inflation expectations.
The Fed is okay with some short-term inflation (especially as the years leading up to COVID-19 saw inflation stubbornly low with more of a risk of deflation), but they are working to ensure that folks don't expect that 8% inflation is the normal in the long run.
Powell pointed out that while we saw expectations heading north of 3%, they have come back down.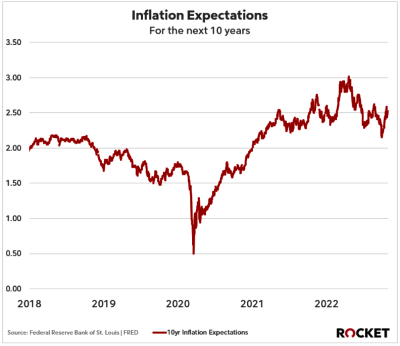 While the Fed solves that in the short term with higher interest rates – use a temporary rate buydown to bust inflationand achieve a lower monthly payment until we see rates moving in the other direction. 


This week's puzzle celebrates our right to partake in a democracy!
As far as difficulty, it gets 2 Rockets out of 5. Click here to solve!