Rocket Fuel Newsletter – 10/29/22
Click the pumpkin to find what your favorite candy REALLY says about you. 👻 🎃 🦇 Happy Halloween!
This week's edition has FHFA announcements, home prices and candy bars.
Fuel Up! 🚀

Last night kicked off this years' edition of the October Classic – this year between the Houston Astros and the Philadelphia Phillies.
Wall Street Bets fans are watching more than in years prior, because ... the Phillies.
Every time they have won the world series, the economy has a less than ideal performance.
This just in: First-time home buyers could be giving out king-size candy bars next Halloween!
FHFA announced they will be cutting all LLPAs (loan level pricing adjustments) to first-time home buyers that are at or below the area's median income and up to 120% for high-cost areas.
To see how this could affect your area, click here –> 🏠
We are anticipating that those who take advantage of this will pass the savings on to tricker-or-treaters for years to come, so get your costumes ready now.

Welcome to the buyer's market.
As existing home sales have stalled with interest rates in the 7's, it sounds like a lot of doom and gloom out there.
There's a bright spot though, for those looking to purchase a home – it's turning into a buyer's market.
Two reports dropped this week that show home prices finally coming down from their peak.
The Core-Logic S&P Case-Shiller Home Price Index fell 1.1% in August, while the FHFA index followed suit with a 0.7% decline.
Prospective home buyers are seeing price cuts on listings and can again get seller concessions to help offset closings costs – or pay for a temporary rate buydown! 

Michael Bock and Theresa Bock, American Mortgage Services
Michael and Theresa were just recently married! They will have been together for 3 years in December. Mike actually recruited Theresa into the business. Previously, she had a photography business and also worked as a teacher! Mike was a financial advisor, and as he met with individuals, he would see large saving accounts and found that his clients were saving for their first home. He thought, "Why am I not getting into that?" He did his first mortgage and fell in love with it. For the first few months, Mike would close a handful of deals, but as he was dipping his toes into the mortgage game, he began to fall more in love with helping clients achieve homeownership and started to drift away from financial advising.
He interviewed with a couple of brokerages. He has always been someone who got his boots on the ground and worked to find the business! He wanted that support system to keep his business moving to the finish line. He found American Mortgage Services (AMS) in Tampa and realized it was a perfect fit. When he got started at AMS, he knew he had to be fully committed to the business. Once he stopped jumping between both worlds, right around the end of 2018, he started to see nonstop success.
Theresa was assisting Michael. She was working on keeping the business clean and efficient. Once she mastered the back end, she wanted to return to her teaching roots and work directly with clients. Now, they team up to build their brand and business! They compliment each other perfectly and always brainstorm new ideas together.
Having that team experience helps clients build trust and know there is always someone to assist with whatever might come up. Even though rates are going up right now, they're still focused on helping their clients achieve their dreams. They've been so focused on expanding their toolset, utilizing their boundless creativity and selling tools like the 2-1 buydown.
One piece of advice:
Theresa: "Stay positive. Keep a positive outlook. Keep your mind OPEN and take the time to try new things. Focus on the relationships."
Mike: "Activity!! Don't sit on the sidelines. This is a different year. Stay active. Get out there! Go to events. The more people you meet, the more opportunity to find business. Don't be afraid to make that phone call."
Ultimately, it's all about the relationships you have. Be active. Get out there.
Sign Up For Our November Pro Talks!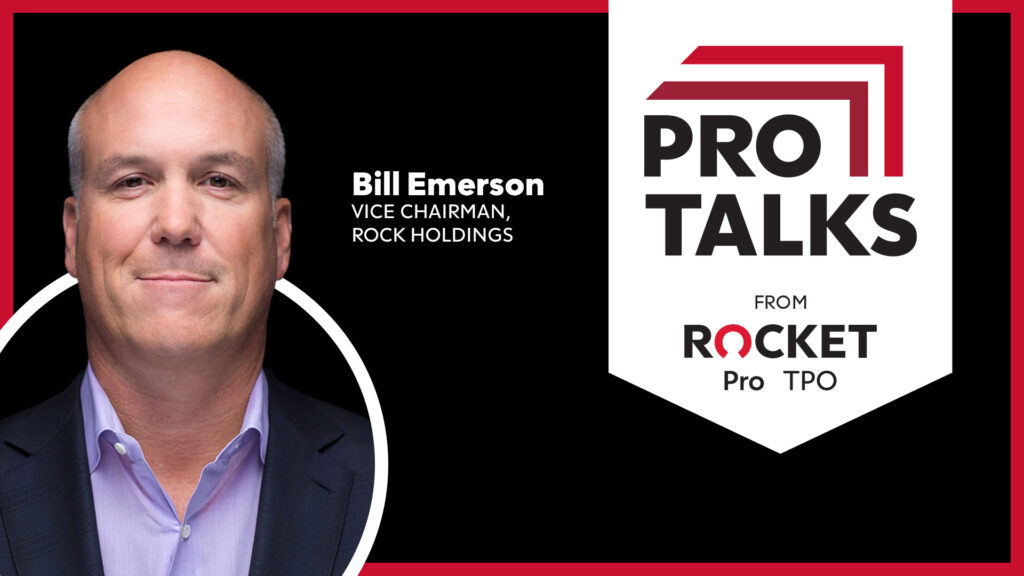 If you've ever wondered what the key ingredients are for a strong culture and how it can elevate your business, this Pro Talks is for you! Sign up for this powerful speaker series next Thursday, November 10, at 2:00 p.m. ET.
Our EVP, Austin Niemiec, sits down with our own industry insider and mortgage expert Bill Emerson, Vice Chairman of Rock Holdings. Bill has been with Rocket Companies® for over 29 years, starting out as a mortgage banker. Bill and Austin will talk about how you can stand out by building a culture of excellence that drives everything you do for your clients. Building and nurturing culture is vital for your team and your clients.
Don't miss this fascinating talk with a true industry expert! 


This week's puzzle gets 3 Rockets out of 5. Click here to solve!