Rocket Fuel Newsletter – 1/8/22
Gyms were noticeably busier this week – hope to see you all again next week! 💪
This week's edition has strong housing indicators, state migration patterns and jobs!
Fuel Up! 🚀

The Market
Figure 1.
Market Movers
Caffeinated Trends – Ryan Schoen
This week received further confirmation for strong housing market expectations in 2022.
Residential spending increased at a rate of 0.9% during the month as home building appears to be strengthening, thanks to a continuation of strong buyer demand and a shortage of existing homes for sale.
The divergence in residential and nonresidential construction activity, thanks to the pandemic's aftershocks, remains as many sectors still struggle to get back on track.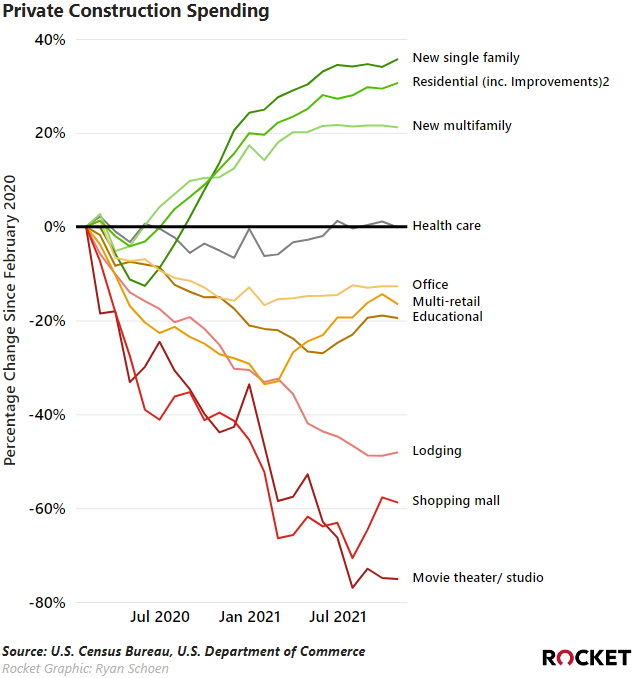 According to the U.S. Census Bureau, the population of the United States grew in the past year by 392,665 (or 0.1%), representing the lowest rate since the nation's founding.
The slow rate of growth can be attributed to decreased net international migration, decreased fertility and increased mortality due in part to the COVID-19 pandemic along with an aging of the nation's population.
This is the first time that net international migration (the difference between the number of people moving into the country and out of the country) has exceeded natural (net births/deaths) increase for a given year.
Further state-level details reveal clear market trends of note that will have implications on housing markets across the nation.
The South, the most populous region at 38.3% of the total national population, was the only region with positive net domestic migration.
The Northeast, the least populous region, experienced a double whammy of a decrease in residents due to natural reasons and negative net domestic migration.
The West, despite losing residents via negative net domestic migration, experienced overall growth, thanks to positive net international migration and a natural increase.

Texas came in as the biggest winner of the bunch, with positive net migration (+197.5k people) and natural increase (+113.8k).
Florida remains a hot spot for attracting new residents (+259.5k), which helps to offset the aging population that contributed to a negative net natural increase (-45.2k).
California and New York, with their high-cost housing markets, continue to see their residents flee (negative net migration of -353.0k and -333.9k respectfully)

At the end of the day, some of these trends will take considerable time to feel the full impact on local housing markets.
However, in the short to medium term (let's say 2 to 10 years) demographic tail winds will provide significant support to the housing market as 25- to 39-year-olds hit prime home buying age.
What The Pros Are Reading
If you made it this far, you deserve a recap …
State migration demonstrates sustainable patterns.
Housing is still the growing focus for commercial construction.
Homebuyers ages 25-39 still need homes.
Pro Talks With Chris Voss
We're starting 2022 with one of the best Pro Talks ever. If you're ready to enhance your negotiating skills and win more business, this one is for you!
Sign up for this month's Pro Talks, taking place January 18, 2022, at 2:00 p.m. ET and hear from Chris Voss, CEO of The Black Swan Group, former FBI hostage negotiator and best-selling author of "Never Split The Difference." Chris will focus on the art of negotiation – optimizing your client interactions and getting more of what you want from business and your life!
Remember: Pro Talks is built around your busy day. They're virtual events, so you can watch from anywhere. Take a moment and sign up now!