Rocket Fuel Newsletter – 09/17/22
This week's edition includes a look at August inflation numbers and a partner capitalizing on referrals.
Fuel Up! 🚀

Inflation Dominates The Headlines 
Major inflationary reports dropped this week, as August's Consumer Price Index (CPI) and Producer Price Index (PPI) were released. 
CPI came in worse than expected, rising 0.1% from July to August and 8.3% from August 2021. Analysts had anticipated a decrease of 0.1% from July to August.
Inflation for consumer core prices, which excludes food and energy, rose 0.6% month-over-month, more than the expected 0.3%.
Better news here – PPI dropped for the second straight month, this time by 0.1% from July to August.
Producer core goods prices rose 0.2% as global supply chain issues have begun to sort themselves out.
All of this will be part of the conversation at next week's FOMC meeting, at which Jerome Powell and the rest of the Fed are expected to substantially raise rates once again.
Bottle Service 

You've seen some crazy home listings, but how about this AirBnB listing from India for the world's largest bottle? 
The bottle-home comes fully equipped with three bedrooms, updated finishes and even an aquarium. The only thing it's missing is a slide from the cap down to the ground floor. 

Kids these days are following CPI reports like the scores of their favorite sports teams. 
That's the tricky part about inflation and expectations in economics – perception is reality.
Last month, everyone seemed to be taking a collective sigh of relief, because inflation started slowing.
However, this month's report showed a slight uptick, and some folks aren't as convinced that we're through the thick of it yet.
The Fed is looking to show everyone that it means business and is working to keep people from thinking that 8% inflation is any bit normal.  


Indra Adhikari, Co-Founder & CEO, Hamro Lending

App you can't live without: Callbreak (card game)
Favorite vacation spot: "I don't really go on vacations; when I want to unwind, I love to read news analysis of international events."
First job: Laundry attendant at a hotel in Texas
Coffee/tea preference: Neither
Favorite local delicacy: Himalayan Kitchen (note: Indra was actually at the restaurant during this interview – he practices what he preaches!)
Favorite things about Rocket:
Rocket Connect: "Rocket Connect is the best 1 – 2 hour response, maybe faster than that. We can call anyone for anything and everyone is able to help us out."
Technology: "When we put in the loan, the conditions come in by themselves; we don't have to call someone to get the conditions!"
Team members: "It's not a transactional way of doing things, they help train us."
  
Business models change from shop to shop, but brokers frequently cite a desire to give back to their community as a reason for getting into the mortgage industry. Some choose to focus on VA loans to assist the veteran community, some choose to specialize in high- or low-balance loans, and some, like Hamro Lending in Pittsburgh, Pennsylvania, choose to primarily support a specific ethnic demographic in their area. 

Hamro Lending, founded in late 2021 by the team of Indra Adhikari, Abi Kafley and Dinesh Khatiwoda, gladly serves the entire community around them, but has centered their business on the 50,000-strong Nepali community around the Greater Pittsburgh area. For Indra, who lived in a Nepali refugee camp before being brought over to the United States in 2008, the business is about more than writing loans. 

"Being a refugee, coming here, and then doing loans, I never would've thought I would've done that," Indra says. 

In fact, Indra originally studied to be an electrical engineer and then worked in tax preparation and insurance before pivoting to the mortgage industry. He's not alone – one of his partners earned an advanced degree in chemistry in India but chose to get into mortgages, and another Loan Officer at Hamro studied software development. All three, Indra emphasizes, saw the opportunity for a hard-working, rewarding career and jumped at it.
Since opening their doors in late 2021, Indra and his team have stayed busy, letting the business come to them rather than chasing it down themselves. They post closing pictures on Facebook and have started to play around with TikTok as of late, but for the overwhelming majority of their business, they have relied almost entirely on word-of-mouth advertising from the community.
"Most of the loans we get are referrals. We don't really want to push people to come to us, we want them to hear from others and then come to us."
In just a few months of closing loans in what has proven to be a difficult rate environment, Hamro Lending has jumped into the top 10th percentile of closers in all of Pennsylvania. Their book, like most brokers these days, is primarily purchase, and they're confident they can create a more even purchase/refi mix in the next year if inflation and rates improve.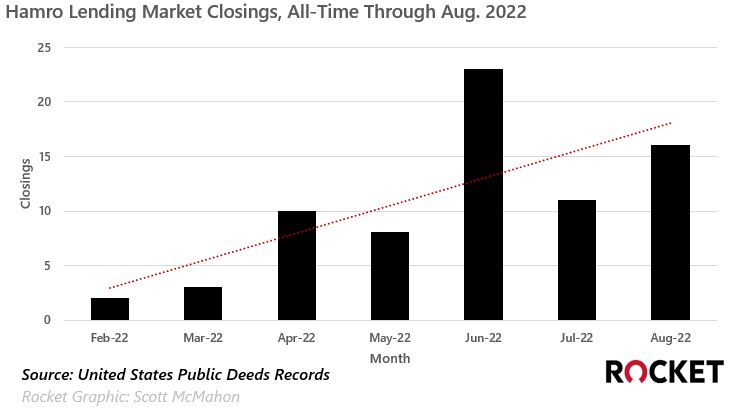 Their success in the Pittsburgh area has pushed them to expand to other cities in Pennsylvania, as well as to other states with large Nepali populations. Hamro Lending just recently received their Kentucky license and is in process for three more states. The list includes neighboring Ohio, which Indra calls out as having the largest market of the Nepali community.
Each new state is an exciting opportunity to Indra, whose confidence is understandably sky-high.
"When we go in [to a new state], we know we'll win and we know we'll get the business. From word of mouth, friends and family want us to work with them after seeing our [Facebook] posts. … We're trying to be where the big Nepali populations are," Indra says.
Relying on referrals can be tricky when scaling a business, but Indra and the Hamro team are proving that it can be done by doing the right thing by their clients and engraining themselves in the community. Aside from expert-level customer service, Indra says the key to building a business on referrals is to make yourself known.
"Go to social gatherings, meet people every day. I meet with people every evening, from 4 p.m. to 7 p.m. – that's my time to meet people. Even if I'm at the grocery store, I stay there 2 - 3 hours talking to people. You have to build connections." 


On one of our tougher puzzles, four solvers finished in less than 2 minutes, and our average solve time was over 5 minutes. Mark Goldstein's 42 seconds was the best time, followed by John F, Manny Rivera and Bret Thompson.
This week's puzzle isn't as tough, but still has some teeth. We give it a rating of 3 Rockets out of 5.