Rocket Fuel Newsletter – 08/27/22
Ever wanted to live like royalty? Check out this castle for sale in southeastern Michigan, complete with moat, drawbridge and enough secret rooms and passageways to recreate your favorite Scooby-Doo episode!
This week's edition includes recently published industry statistics, another state doing back-to-school shopping the right way, and a look back at Originator Connect.
Fuel Up 🚀   
  
Biz Buzz
Rocket ProSM TPO Hosts Originator Connect Conference 
Thank you to all the mortgage pros who joined us at Originator Connect last week in Las Vegas! The jam-packed weekend included a trade show, a keynote speech from Rocket Mortgage® Chief Revenue Officer Tim Birkmeier, and a Q&A between our own Austin Niemiec and entrepreneur-turned-Shark Daymond John.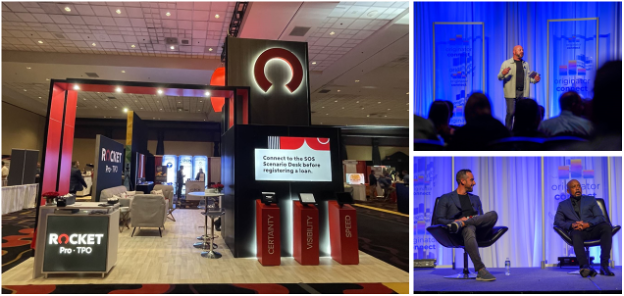 Speaking of celebrities, Mike Fawaz, fresh off his appearance in National Mortgage Professional magazine, was also joined by Loan Factory, Inc., CEO Thuan Nguyen and Simplist Mortgage, LLC, CEO Anthony Sherman for a panel discussion on technology's role in the mortgage industry.
President Biden Announces Student Loan Forgiveness Plan 
In case you've been living under a rock this week, borrowers who earn less than $125,000 a year (or $250,000 a year for couples) will be eligible for a $10,000 student loan debt cancellation. In addition, monthly payments for undergraduate loans will be capped at 5% of a borrower's discretionary income, down from 10% prior. 
Tax Holiday, Best Holiday!
New Jersey's first-ever state-wide tax holiday on back-to-school items runs Aug. 27 to Sept. 5. The Garden State is the 17th state, plus Washington, D.C., and Puerto Rico, to offer school supplies and other education-related electronics (e.g., computers, printers) around back-to-school season without state sales tax. State officials estimate an average savings of $28.75 this year on tax-exempt items.  
Caffeinated Trends 
Are We Officially In A Buyer's Market?
The last several years have been a perfect storm for creating one of the most lopsided sellers' markets on record. Pandemic-fueled spikes in housing demand and home prices coupled with rock-bottom mortgage rates made the housing market a seller's dream, but new data suggests we may have turned a corner back toward a buyer's market.
Data from Black Knight this week showed a 0.77% drop in home prices from June to July; this is the first month-over-month decline in prices since before the pandemic, and also the greatest drop in any month since January 2011 (amid the Great Recession).
In layman's terms, homes were cheaper (on average) to buy in July than they were in June.
But the difference was less than 1% month-over-month! Yes, but consider three additional trends from Redfin:
Time on Market
Remember when homes didn't last more than a couple of days on the market? Inspections were waived, appraisal gaps were matched, and in some cases sites were entirely unseen!
Now, less than a quarter of homes are under contract within a week. In fact, only 36% of homes are under contract after two weeks, down from a high of 55% earlier this year. 
The same data also shows that the median time on market climbed to 25 days from 21 in August 2021, and up from 17 days earlier this year.
Homes Selling Over Asking Price
A hallmark of the pandemic seller's market was inflated asking prices well above what the home would have normally appraised for.
Earlier just this year, over half of all homes were selling above list price, but that rate has since dropped to just 38.4%, and is well on its way to matching the lowest rate from the last 2 years.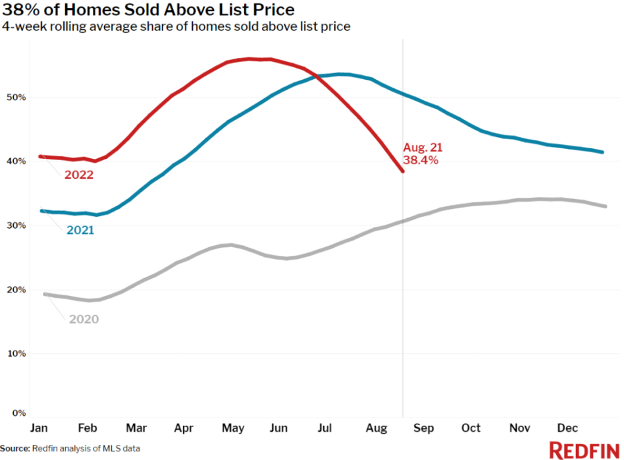 Price Drops
Because homes are staying on the market longer and not selling for as much, naturally the amount of dropped prices has started to rise.
Starting this spring, price drops have skyrocketed to 7.7% of all listings – this is almost double the highest rate of any month since the start of 2020 (~4.0% in October 2021). 
Undoubtedly, sellers were listing their homes on the higher side after seeing and hearing what their neighbors' homes sold for in the last two years. But as rates have risen and buying a home has become more expensive, demand has dropped and sellers have had to reassess their asking prices.
--
Much like the pandemic itself, what has become so normal over the past 2 years has started to shift back toward pre-pandemic trends. Sellers, beware! 
In The Weeds Reads
Pro Puzzles   
Bob Simon and John Cordes flew through last week's puzzle – Bob finished in 19 seconds, narrowly beating John's time of 22 seconds. Four others also solved last week's puzzle in less than a minute. Great work! 
This week's puzzle gets 2 Rockets out of 5.