Rocket Fuel Newsletter – 08/20/22
Have you ever dreamed of a waterfront view from your living room? Starting next month, SeaPods can make that dream a reality, so long as you're cool living in an 830-square-foot pod above the ocean ...
This week's edition includes a cover story featuring our own Mike Fawaz and how to interpret monthly housing data.
Fuel Up 🚀   
Biz Buzz
Hey, Fawaz! Who's On The Cover Of National Mortgage Professional This Month? 
Rocket ProSM TPO's very own Mike Fawaz graces the cover this month of National Mortgage Professional! The accompanying feature story details his incredible story from war-torn Liberia to Senior Vice President and Brand Ambassador of Rocket ProSM TPO.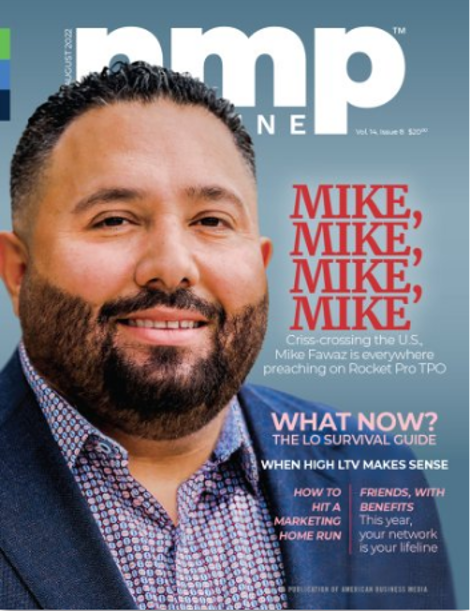 From the article: "[Fawaz is] more than just another suit pitching business. To [brokers], he's the face and, some say, the soul of Rocket."
Congrats, Fawaz! Check out the full story here. 
In Case You Missed It 
Caffeinated Trends 
What Recession?! 

 
The "Spending Report," otherwise known as "Retail Sales," showed resilient growth in consumption this year – with July's report showing over 10% annual growth vs. Summer '21 even as stimulus checks have stopped.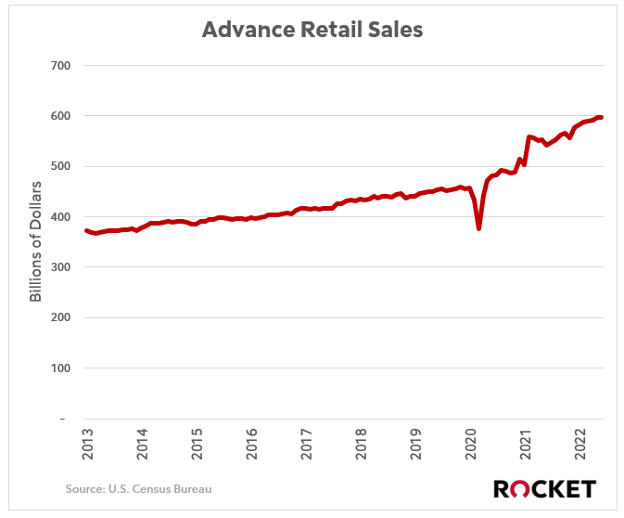 This week's new housing starts report did not surprise, and higher rates and inflationary pressures are cooling the red-hot market.

U.S. homebuilders posted an 8th straight month of declining sentiment, citing construction costs (likely due to higher labor costs due to low labor supply as lumber prices have returned to earth)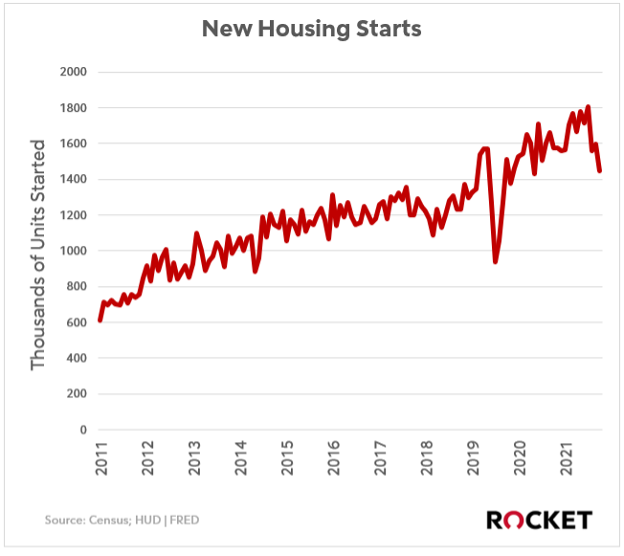 Deceleration Is Not Real
It's called "negative acceleration!" 
 
Home price growth has started to normalize since the Fed started tightening monetary policy (raising rates and reducing their balance sheet of quantitative easing bond-buys) 
Still, values are still growing at a faster rate than the lead up to '08. 
 
They are also slowing down much faster than the collapse in '08.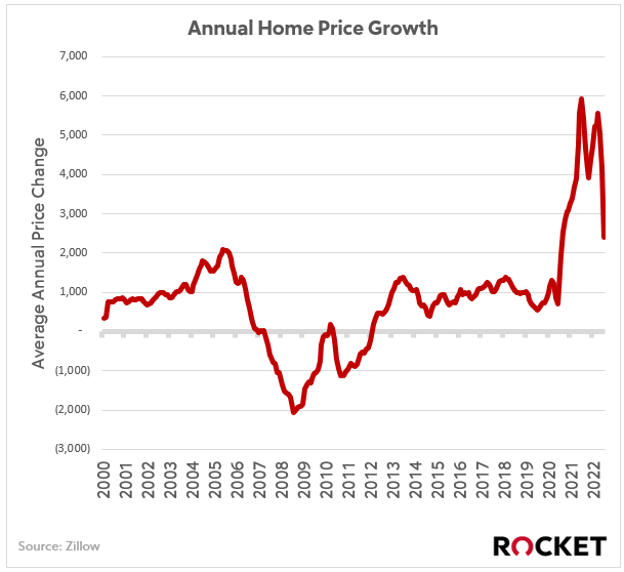 People like to compare things to 2008 since it happened recently.
Just remember that in the high inflation environment in the '80s when stagflation hit, home sales dropped, but home prices did not.
 
Did you see that China cut interest rates (again) last week? 
Partner Spotlight 
Ryan McCallister, President & Principal Broker, F5 Mortgage 

Favorite vacation spot: "The Atlantis resort in the Bahamas. I went there as a little kid and it was mind-blowing."
First job: "I worked at a worm farm. There was surprisingly a huge demand, so we'd have to ship in worms from Europe. We'd have to feed them, put them into cups and then ship them out."
Coffee preference: "Straight black coffee."
First concert: "Lil Wayne in 2009."
Famous local delicacy: "Traverse City cherries."
Favorite things about Rocket:
Loan Process: "It's so much easier to register a loan with Rocket. … We can get it done in around 10 minutes from start to finish. And when I get a CTC from Rocket, I know it'll close."
Technology: "The tech is second to none, and it couples well with our consultative approach."
Credit Upgrade: "We can get [the client] up to a better credit score. It can save them money, and then they'll refer us to more people."
"Trust the process" has become a common saying in recent years as words of encouragement for getting through times of change. For Ryan McCallister and his team at F5 Mortgage in Traverse City, Michigan, trusting the process has meant creating new procedures and adapting to new roles within the company, all for the sake of a better loan experience for both real estate agents and clients.
F5 – whose name comes from the keyboard shortcut for refreshing a webpage – began in late 2019 with the goal of combining the marketing/lead generation approach from the D2C mortgage space with the products and optionality that the wholesale market offers. Ryan and his team realized early on that while the intentions were there, they didn't yet have the systems needed to fully execute on their goal.
"We didn't have [standard operating procedures] when we started, it was just kind of a mess and led to unnecessary delays and a poor client experience."
As the pandemic began in 2020, F5 began implementing new procedures and roles within the company that have ultimately led to their success today as one of the largest wholesale lenders in the state of Michigan.
Consultative Approach
Ryan's shift away from a more standard sales approach was tested during the pandemic when the refi boom took off.
"Everyone qualified for a rate/term refi, but rather than slamming as many loans through the process as possible, we went for a more consultative approach – going over the credit report, finding opportunities for the client to save more and suggesting what they could do. We became consultants more than LOs."
Now that the pandemic-fueled refi boom has subsided, Ryan and his team are back to their bread and butter – purchase loans – which Ryan believes fits perfectly into his team's skillset.
"We're excited to get back to the relationship building. It pairs nicely with our consultative approach, almost like a financial advisor. We're making sure we're structuring the loan in a responsible way for the client."
State Licenses
As they have grown their team, Ryan has also expanded F5's reach to 11 states, from Washington to Florida.
"We knew low rates wouldn't last forever. Being a growing company, we wanted to make sure we had as much opportunity as possible.
In addition, Ryan called out the merits of using a third-party licensing system to manage his Loan Officers' state licenses. Since each state has their own rules and regulations around licensing, Ryan suggests partnering with one of these third-party companies to avoid licensing becoming a full-time job for a broker president.
Account Managers
F5 has created the Account Manager position, which is responsible for being the only point of contact between real estate agents and the F5 team. Ryan cites past feedback from agents of "too many cooks in the kitchen," so the Account Manager role was F5's way of creating a better experience for both the real estate agent and client.
--
As with most organizations, structure, systems and accountability are critical for a mortgage broker to survive, and Ryan is thankful that he and his team were able to trust the process and impact the outcome with the people for whom it matters most.
"It's all about not losing sight of what matters most – the client experience. The more you can systemize, the easier it becomes to scale. There's also more accountability, and that makes the business that much better."
In The Weeds Reads
Pro Puzzles   
Three solvers completed last week's puzzle in under a minute – congrats to Bryan (0:13), Bob Simon (0:46) and Mark Goldstein (0:52) for their great times!
This week's puzzle gets 3 Rockets out of 5.