Rocket Fuel Newsletter – 08/06/22
It was a big week in economic news – this week's edition includes our take on jobs data as well as insight on how financial pros can help their clients navigate the post-pandemic economic world.
Fuel Up 🚀   
Biz Buzz
It's Jobs Friday! Let's run down the payroll-related data released this week by the Bureau of Labor Statistics (plus a look at your new dream job!). 
July Jobs Report Surprises With Big Increase
Non-farm payrolls jumped by 528,000 in July, nearly double the expectation of 265,000 jobs.
This month's gain represents an increase on June's 398,000 and pushes back on the notion that hiring has slowed down as inflation and prices have crept up. The expectation of 265,000 jobs would have been a decline month-over-month, and to many analysts would have signified that the U.S. economy is indeed in a recession.
Unemployment dropped 0.1 percentage points month-over-month to 3.4%.
JOLTS Report Shows Decrease In Job Openings
Meanwhile, this week's monthly Job Openings and Labor Turnover Summary (JOLTS) report showed a substantial decrease in job openings from May to June (this data has a one-month lag). The 605,000-job decrease to 10.7 million openings suggests a widespread hesitancy to add more workers given recent economic trends. There remain around two jobs per unemployed worker.
--
An increase in non-farm payrolls and a decrease in job openings?
The July jobs report indicates that companies are still hiring amid the uncertainty in today's market.
June's JOLTS indicate that although hiring remains firm, the ultra-tight labor market conditions that have persisted over the past year are loosening as the economy slows from its recent break-neck pace.
Looking For A Sweet New Gig?
Job-related data may be confusing, but you won't have to think about it if you land this sweet new dream job!
Canadian candy company Candy Funhouse posted a Chief Candy Officer position this week, whose primary job functions include trying over 3,500 products annually, leading candy board meetings, and heading all candy strategy for the company.
The position is open to anyone 5 and up; the job listing simply calls out a "passion for candy, pop culture, and a sweet tooth" to succeed.
As for the culture, rumor has it the owner has a strict, formal dress code – top hats and bow ties are strongly encouraged. 
Caffeinated Trends
 
How well will Americans manage their finances as the pendulum swings post-pandemic? 

Since homes account for ~40% of American's spending, real estate pros play a pivotal role in making sure American families build a successful budget for their dreams.  

The Wealth Effect – people got additional money in their direct deposit, and their net worth went up sharply via the stock market and any real estate holdings.

With inflation, real wages have returned to pre-pandemic levels.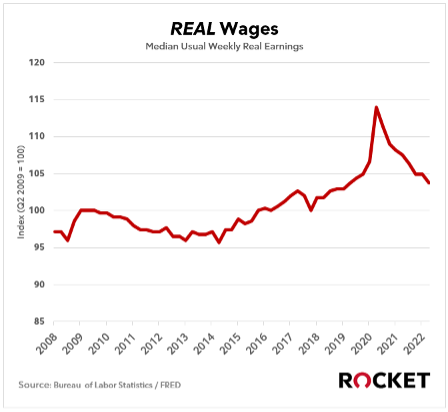 Building Fortresses - During the pandemic, with all that money sitting around and nowhere to go, it made perfect sense for Americans to allocate a huge percentage of their budget toward their home, and for builders to build new homes to fill the enormous demand.  
Roaring 20's - After being locked away in their castles on toilet paper thrones, Americans have emerged and returned to spending on services, but higher wages have not been able to attract enough service workers back, and labor participation still lags pre-COVID.  

But Americans are still paying to travel and eat out – it is the 20s after all! 

Many homeowners want to hold on to their 2.5 – 3% mortgage rate – and many should! 
 
However, would you rather double your interest payments to 5 – 6% or spend 6 times on 15%+ substantial credit card debt? 
 
(Especially as 5-year inflation expectations are back down at 2.5% ) 
 
Creating stability and a clear plan for success is important for any family, and debt consolidation is a powerful tool. 
 
In Q2, the 13% year-over-year increase in credit card debt marked the largest in more than 20 years. 
Sneak Peak for Next Week 👀 

Last month's consumer sentiment report from the University of Michigan was the worst on record, but unemployment and wages are in a favorable spot relative to the 10 years prior to the pandemic.  
 
Time will tell if people listen to their desire to splurge and eat out after being locked indoors or if they will listen to all the recession talk and spiral into negative thinking.

Next reading comes out next Friday.  
Pro Talks 
We're excited to announce our next Pro Talks with Bob Walters, Chief Executive Officer of Rocket Mortgage® and President/Chief Operating Officer of Rocket Companies®, and Bill Banfield, Chief Risk Officer for Rocket Mortgage.
Our EVP, Austin Niemiec, sits down with these two highly engaging, thought-provoking leaders who are heavy hitters in the mortgage industry. They'll be covering today's important topics: the current state of the market, industry trends and insights, as well as leadership initiatives. Bob and Bill will also share innovations and technology from Rocket ProSM TPO that are helping partners compete and move forward with confidence. Save your seat for this Pro Talks and take your life, leadership and business to the next level.  
In The Weeds Reads 
TPO Travel 
Another month, another successful round of All Access. Partners from around the country met in Detroit to meet the team, get insights into current market conditions, and learn what we're doing to help grow their business.  
Ask your Account Executive how you can be a part of the next All Access! 
Pro Puzzles   
Tony Finau won big at the Rocket Mortgage Classic, and so did an unnamed solver in last week's golf-inspired puzzle. The solver's time of 1:18 was 24 seconds faster than anyone else; kudos to Mark Goldstein (1:42) and Chris C (1:56), who were the only other two to finish under two minutes. 
This week's puzzle gets 2 Rockets out of 5.