Rocket Fuel Newsletter – 05/28/22
Happy Memorial Day weekend! This week's edition busts some crucial myths around the VA loan product and highlights one Rocket ProSM TPO Partner doing right by our veterans. 
Fuel Up! 🚀
Bizz Buzz
Memorial Day 2022
Memorial Day, originally called Decoration Day, commemorates U.S. military personnel who have died while serving. This year, it's Monday, May 30. This weekend is largely associated with three things: 
The official, unofficial start of summer. For much of the country, this kick-off to the season will be warmer than usual. 
Elevated gas prices at the pump – yes, even higher than the national average of $4.60/gal at the time of writing (with commuters along the West Coast paying an astronomical $6.07/gal). See today's average gas prices down to the county level here (preview below).    
The Indy 500. Need a quick rundown on the 500-mile race? Impress your family and friends with water-cooler talking points from this guide.
The Housing Market 
Existing-home sales fell for the third consecutive month in April, declining 2.4% month over month and 5.9% relative to a year ago. Amid cooler housing demand, the median sales price hovered at 14.8% annual growth, while housing supply ticked up in April from March to 2.2 months of inventory. 
With pending sales decreasing for the sixth straight month in April, this year's sales season may be off to a slow start.
Caffeinated Trends
Mortgage brokers have increasingly avoided government loans following the Great Recession and, more recently, the COVID-19 pandemic. In particular, the VA home loan program has suffered from the negative publicity that government loans have received; misunderstandings and misconceptions stemming from historical myths have made it more difficult for veterans to take full advantage of the VA loan option.
Let's break down some of these misunderstandings to provide clarity and help you close more VA loans for the 18.4 million veterans (7.1% of the adult population aged 18 years or older) in this country.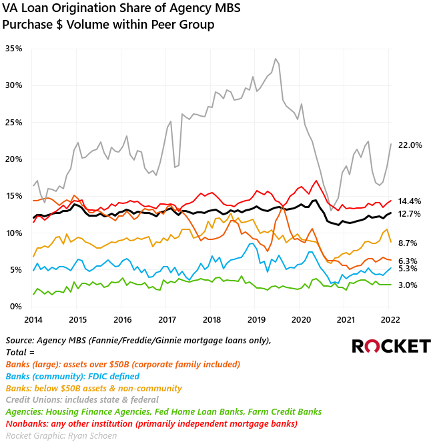 Misconception: Borrowers leveraging the VA product are less viable buyers, since the VA loan offers 100% financing and no down payment.
Reality: Since there is no down payment requirement, veteran buyers have more purchasing power with more cash available to make a higher offer alongside a strong credit profile. Unlike many loan programs, a lower credit score, bankruptcy or foreclosure does not disqualify borrowers from a VA home loan, and VA guidelines do not state a minimum credit score to qualify. As a result, some lenders develop their own unique stances on past credit issues and can have large disparities.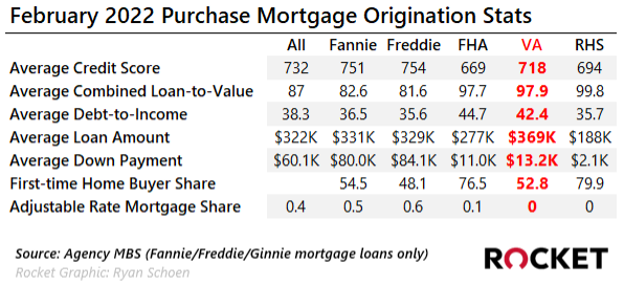 Misconception: Conventional loans offer the best interest rate terms for home buyers.
Reality: Veterans choosing to lock their rate on a VA loan have enjoyed an average of 60 bps less in rate than conventional loans since January 2020. Additionally, only those with VA loans (or 20% down payments) avoid mortgage insurance premiums, which eases some of the persistent mortgage affordability concerns that exist in the market today.
At 5% down, private mortgage insurance (PMI) costs $150 per month on a $250,000 home, according to PMI provider MGIC. With a VA loan, this buyer could afford a home worth $30,000 more with the same monthly payment, simply by eliminating PMI.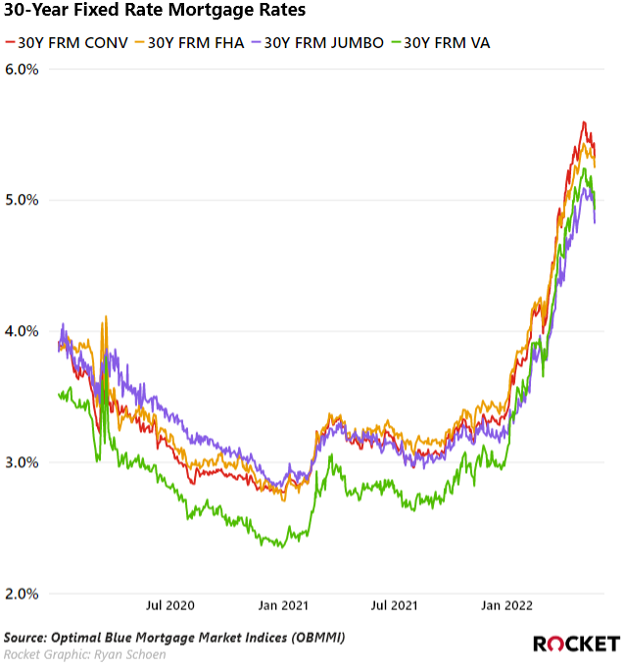 Misconception: VA loans have specific inspection requirements known as "Minimum Property Requirements," along with a history of producing low appraisal values that make the terms and conditions risky and take longer to close on the loan.
Reality: It is true that the VA does have a form of home requirements to ensure the property is a safe investment for the home buyer. However, industry data show that VA turn times are in line with FHA and only average 5 days longer than conventional loans.
As for appraisal values coming in lower, that is a complete myth as appraisers have the same goal no matter what type of loan is involved. Additionally, industry data shows that VA loans have pull through rates in the high 70% range, just under conventional loans and above FHA loans.
The best advice is to get creative with the contract and spell out terms to ease sellers' concerns about choosing a VA buyer over another offer (e.g., borrower covering the gap between the home's appraisal and sales price up to a specified amount).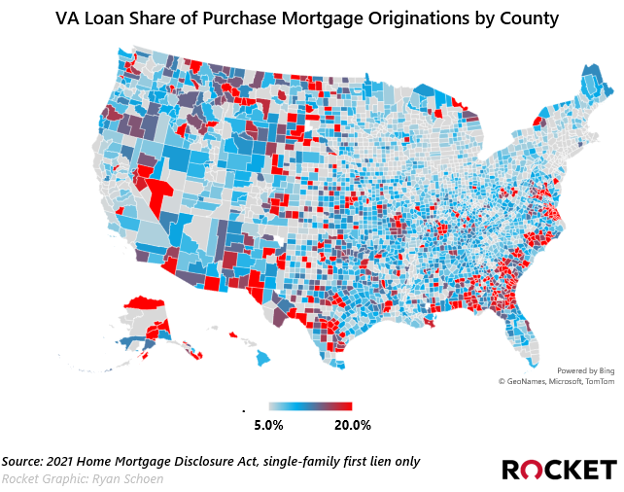 Partner Spotlight – John Giargandella, CEO Of GM Funding
Favorite things about Rocket:
Padlock: "You can't even put a price tag on that. And then once you draw docs and the docs go out, your rate is protected."
Team Members: "From upper management down to Frontline, everyone's pleasant and willing to help."
Speed And Technology: "For what [your systems] do, the capacity, and what it can handle … sometimes I can't believe how quickly you can close deals. The speed of everything spins me out still."
Favorite vacation spot: Maui
First job: Busboy at a little breakfast spot in the Dana Point Harbor
First concert: U2, The Joshua Tree in '87 or '88
Describe your office environment: "Big screens, coffee, dartboard, Pac-Man, pinball, sports memorabilia on the walls. It's like a tree fort."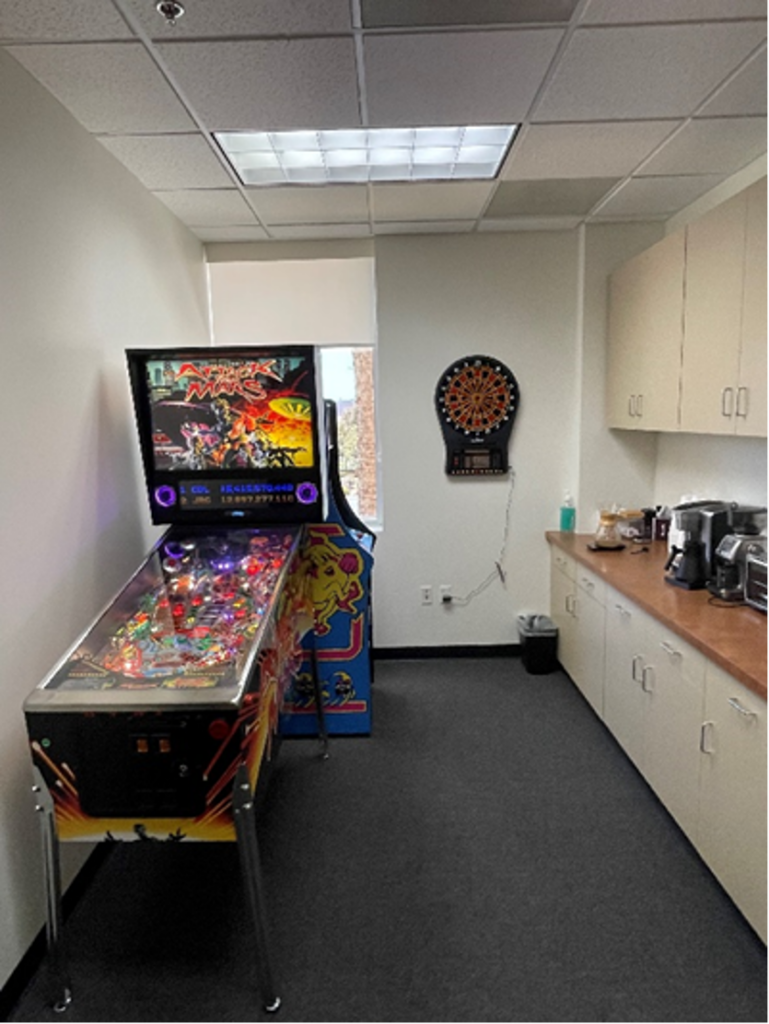 Coffee/tea preference: "During COVID, I started doing pour-over coffee. It's an art form – I have my own electronic grinder, electric kettle, a scale, and I order my own beans. … In our office, we bought the same brewing equipment, and now we have the young guys learning how to brew the perfect cup of coffee. It's a morning ritual here."
San Clemente, California, sits on the border of Orange County and San Diego County, which are home to more than 100,000 active-duty service members and countless veterans and military-connected family members. The military tradition in southern California is strong, and John Giangardella, co-founder and CEO of GM Funding, recognized a critical need in the community.
"Veterans have sacrificed so much for our country and were getting such raw deal from society and business entities – we wanted to do our part."
John and business partner Keith Murphy joined forces back in 2018 to specialize in VA mortgages, which Keith had been doing for years prior. Several years into GM Funding's tenure, John and Keith have stayed true to their word. Since the beginning of 2021, 75% of GM Funding's nearly 400 closings have been VA loans – that's over 9 times the national average of 8.2%!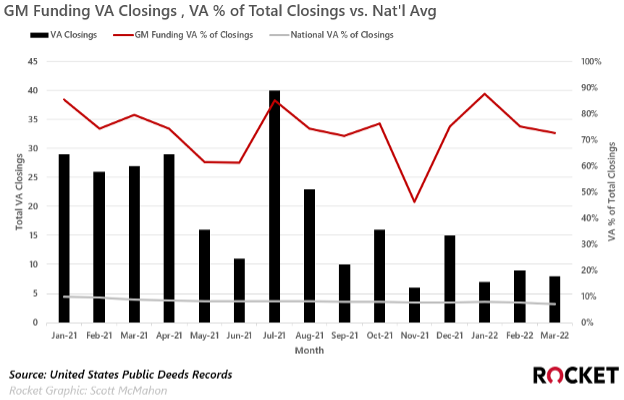 "The secret sauce is that we treat the clients legitimately," John said. "The client is always first, and I'd rather lose money if it gets them the deal we promised."
John notes that gaining the trust of the veteran community has been a linchpin to GM Funding's overall strategy; they proudly display their certification as a Wounded Warrior Project corporate champion on their website, they're actively involved in their community, and the hundreds of five-star Google reviews provided from past clients reaffirm that they are on the right track.
This level of trust, combined with a steady stream of referrals from satisfied clients, has driven GM Funding's success in an area that many other lenders tend to avoid.
"[For others,] it's fear of the unknown. It's a different transaction than a conventional or a jumbo. VA has a lot more latitude with their underwriting, LTV and DTI guidelines. There are some small caveats, but they're similar to FHA loans but the transaction is usually less expensive for the client and most of the time the rates are lower. It's a more secure backed loan."
For John and team, it all comes back to serving the community that has given so much to all of us.
"Veterans are grateful, salt-of-the-earth people. I don't know why I didn't do VA loans 10 years earlier." 
In The Weeds Reads
Pro Puzzles
Five solvers last week posted times under 1 minute, with Devin leading the way at just 10 seconds! Overall, the average solve time was 4 minutes and 56 seconds. 
This week's puzzle is another short one, and it gets 2 out of 5 Rockets in difficulty.