Rocket Fuel Newsletter – 05/21/22
This week's edition includes inflation's effect on summer camps, consumer sentiment and housing costs.
Fuel Up! 🚀
Biz Buzz 
Summer camps not immune to rising prices. 
Summer camp costs are high enough, but in a period of high inflation, they're getting even worse. According to Yahoo! News and the American Camp Association, "the average cost of day camp has more than doubled to $178 per day in 2022."
What do mortgage lenders want to modernize next?
Fannie Mae published its quarterly Mortgage Lender Sentiment Survey this week – as turn times remain a hot topic in the industry, appraisal modernization has become a rallying point for improving the overall mortgage process.
Yes, there's a real plane named "Air Horse One."
The Preakness Stakes will be run today, the second leg in horse racing's Triple Crown. Although Kentucky Derby winner Rich Strike won't run, at least 10 others will, which creates plenty of logistical confusion.
Check out this New York Times article from 2017 about how these horses travel to Triple Crown races, as well as other major events across the country. 
Caffeinated Trends 
The Fed's dual mandate that calls for full employment and price stability is a difficult one to balance. Historically the two have maintained an inverse relationship, where low levels of unemployment correspond with higher levels of inflation, creating a delicate balancing act.
During the COVID-induced recession, the unemployment rate spiked to a record high of 14.7% as temporary layoffs surged from an average of 14% to 78% of the unemployed (see the spike below).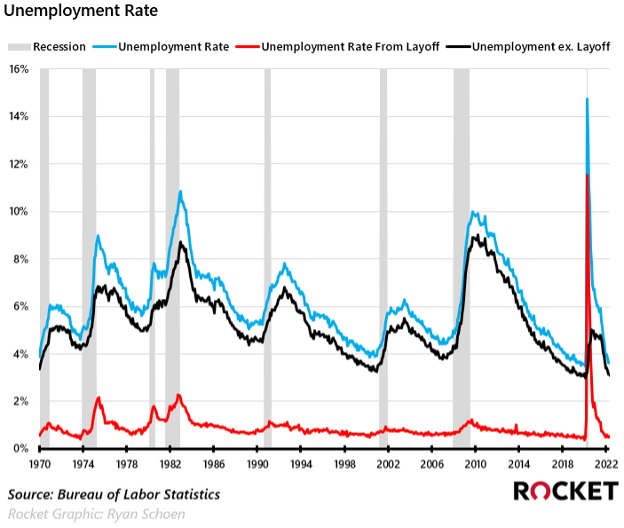 Fast forward to today, when the unemployment rate stands at the seventh-lowest recording since 1970 and fourth-lowest after removing temporary layoffs. Layer in supply chain issues, a war in Ukraine and crackdowns in China to go with the tight labor supply, and it's no wonder inflation remains elevated.  
However, over the past year, there has been a noticeable divergence in this relationship due to the unique nature of pandemic shock and the misread of inflation. This has placed the Fed behind the eight-ball, scrambling to get its dual mandate back in order through a series of 50-basis-point rate hikes and a targeted Fed Funds rate of around 3.5% next year.
How are consumers responding? Rising inflation and the Fed's uncertainty caused consumer sentiment to decline in early May to the lowest level since 2011.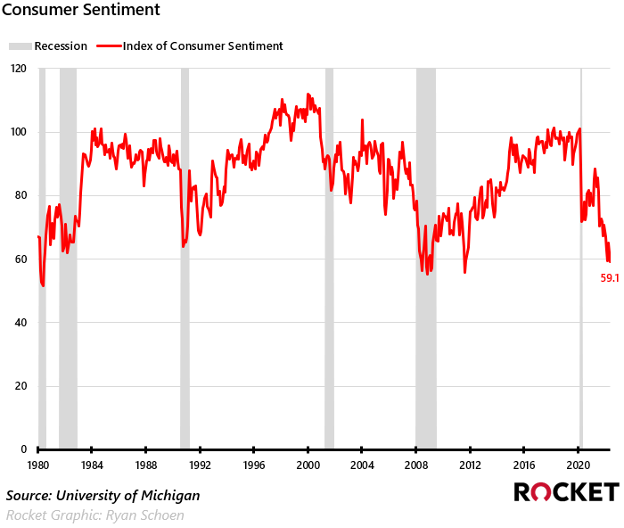 Despite the sour sentiment and nearly half of respondents not expecting their incomes to keep pace with inflation over the next 12 months, they continue to spend. It's as if consumers are trying to overcome their grief and anger over inflation with some classic retail therapy to make themselves feel better. Since consumer spending is almost 70% of U.S. GDP, retail sales are a good economic indicator to watch when it comes to the future path for a potential economic downturn.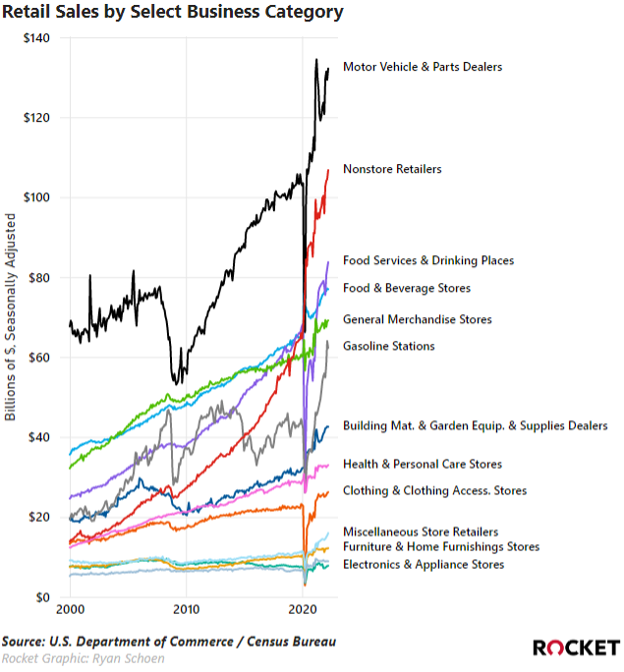 In The Weeds Reads 
Pro Puzzles   
 
We may have found a new Pro Puzzles record-holder – Devin DeJager completed last week's puzzle in 14 seconds!
This week's is just as short, but with some more difficult clues. We give it 3 out of 5 Rockets