Rocket Fuel Newsletter – 04/30/22
When ESPN approached NFL Commissioner Pete Rozelle about televising the NFL Draft, Rozelle wondered why anyone would want to watch it. More than 40 years later, here we are.
This week's Rocket Fuel celebrates the draft as well as this week's Take Your Child to Work Day.
Fuel Up! 🚀
Biz Buzz
If Draft Picks Could Choose A Team Based On Housing
The NFL Draft began on Thursday and runs through today; following the draft, over 250 college football players (plus countless more undrafted free agents) will have new living situations to figure out – some will have better options than others.
The draft's second overall pick, the Lions' Aidan Hutchinson, would see the smallest percentage of his first-year earnings (signing bonus plus first year salary) go toward a home in his new market – a paltry 0.9% of his projected $26.3 million.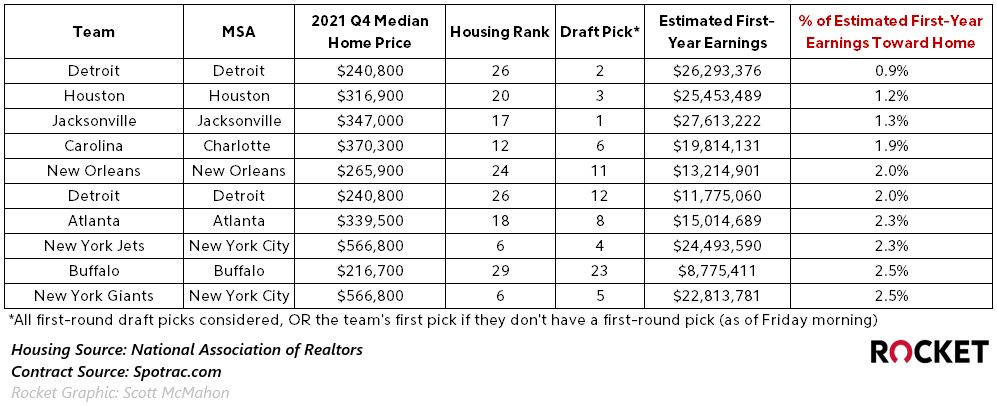 Due to massive housing costs AND the fact that they don't have a pick until the end of round 2, the San Francisco 49ers' first pick would have over half of his first-year earnings tied up in the cost of a house – 50.9% of his projected $2.6 million.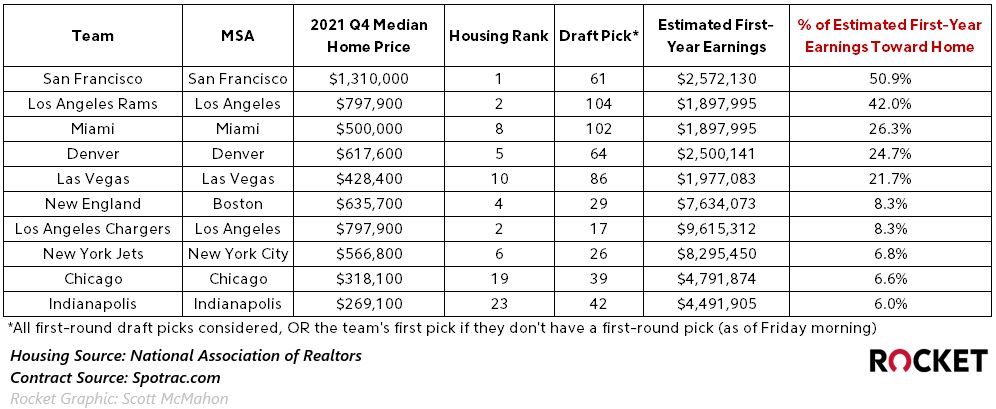 Caffeinated Trends
This year's Take Your Child to Work Day may have looked different from its first iteration (Take Our Daughters to Work Day) 30 years ago in 1992. (Side note: Did you know boys weren't invited until 2003?)
Raise your hand if your Take Your Child to Work Day's activities mainly consisted of showing your kid on camera while also trying to keep your pajama pants out of the shot.
With employers competing for workers in this tight labor market, many are offering flexible work-from-home schedules or even permanent telework positions. This trend is unlikely to revert to stricter pre-pandemic WFH policies, with a majority of WFH-capable jobs being worked at home rather than an office, even though more workplaces are becoming available once again.
However, working from home poses several challenges. With cramped work-from-home conditions, mental health concerns and maybe another family member or two around the house, families may be looking to upsize this year. Many have outgrown their starter homes or are hoping to leave the claustrophobic conditions of their 700-square-foot apartments.
Home prices have exploded over the past year, but the average household income also increased in 2021 only for counties shown in quadrant 1 of the two figures below. This improvement even includes the stimulus checks that inflated 2020 income, which is the base for the 2021 comparison.
Even better is if your income rose in 2021 and you live in one of the three counties in quadrant 2 of the figure below: Homes are less expensive per square foot, and the homes listed are larger in March 2022 compared to one year ago.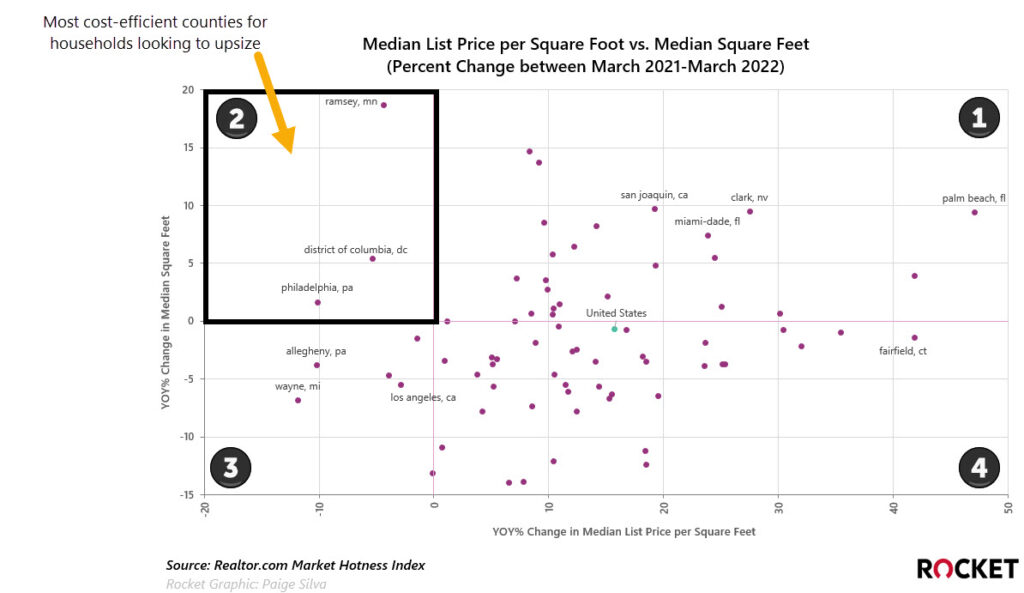 Here's to a few fewer Zoombombs between now and next year's Take Your Child to Work Day!
Partner Spotlight

Favorite things about Rocket:
Rocket Connect turn times: "They were fast enough already but this is even better."
Ease of use: "Once it gets to Clear to Close, I'm truly done. I like that feeling."
Crews: "You can get to know the underwriters that are working on your loans."
TPO support: "Our AE Dan [Wesner] is great with assisting us, especially with the things that are more lender-dependent."
Coffee/tea preference: Monster energy drink
First concert: Billy Joel with my dad
Favorite local delicacy: Toasted ravioli (St. Louis)
First job: Delivery driver for Imo's Pizza (regional pizza chain)
Follow-up: Does pineapple have a place on pizza? "No. I like pineapple, I like pizza, but the two don't mix."
Carving out a niche is important to succeeding in the mortgage industry, and Mortgage Partners Group in O'Fallon, MO, has specialized with a particular demographic that will always persist: first-time home buyers.
As long as there are homes, there will be people buying one for the first time – and these buyers look to experienced loan officers like Jason Kuennen to guide them through the process.
Jason began in the mortgage industry around the standard age for someone buying their first home and found a true calling in helping out folks like him looking to take on the responsibility of a home.
"[First-time home buyers] typically don't care where rates are, they don't care where rates were a year ago. They're ready now, they're excited and eager. First-time home buyers are the ones that keep moving the market."
Even as home prices have risen since the start of the pandemic, first-time home buyers have remained an integral piece of the mortgage industry.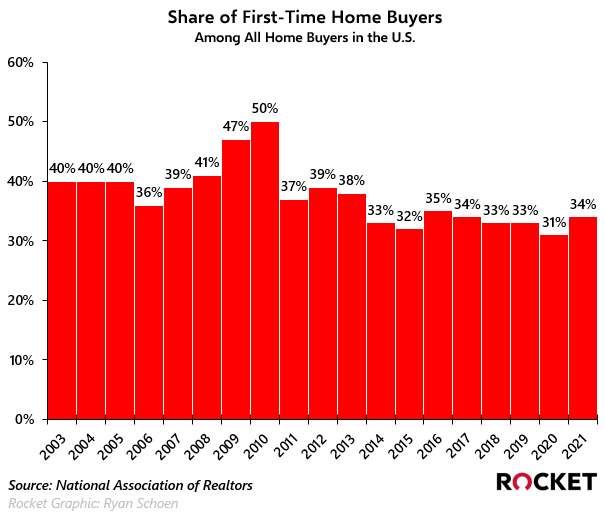 Jason also points out an added bonus with working with and succeeding with first-time home buyers: the follow-up business.
"I'm about 30% first-time home buyer now. I get more of the move-ups, but it's because the relationships cultivate over time, since I've gone after first-time home buyers for so long. Years ago it was a huge bulk of my business but now I'm getting into the 2nd and 3rd-time buyers."
First-time home buyers have become the clients that keep on giving for Jason and his team, but whether it's establishing a niche or even just starting your own shop, Jason's advice centers on pragmatic optimism.
"Do your due diligence and obviously make sure you can handle that day-to-day operation. It may not be as insurmountable as you think."
Want to share your story? Reach out to your Account Executive and you could be in a future Partner Spotlight!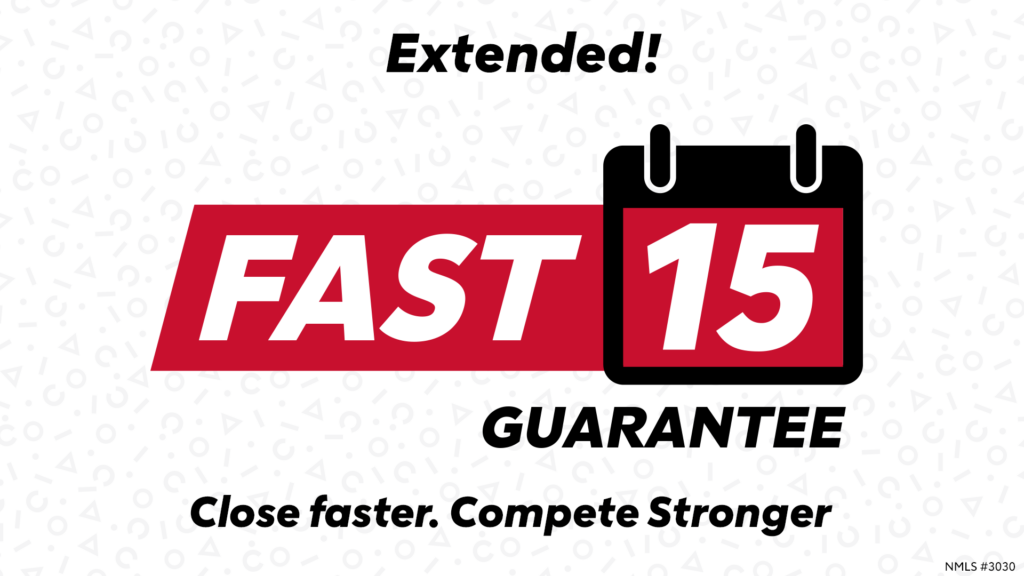 We're making May more awesome for you and your clients by extending our Fast 15 Guarantee! We promise all eligible purchase loans will be clear to close in 15 business days or we'll give your clients $2,500!1 This purchase season, outpace your competitors and win more business. Make sure your clients' offers stand out, impress your real estate agents and earn more referrals.
Don't forget, our Fast 15 Guarantee also covers correspondent partners! We guarantee that eligible loans will be clear to close in 15 business days or we'll waive the $999 acquisition fee.2 This purchase season, outpace your competitors and win more business. Make sure your clients' offers stand out, impress real estate agents and earn more referrals. Keep closing faster with our Fast 15 Guarantee!
TPO Travel
Fawaz is on location in Las Vegas visiting partners and checking out the NFL Draft!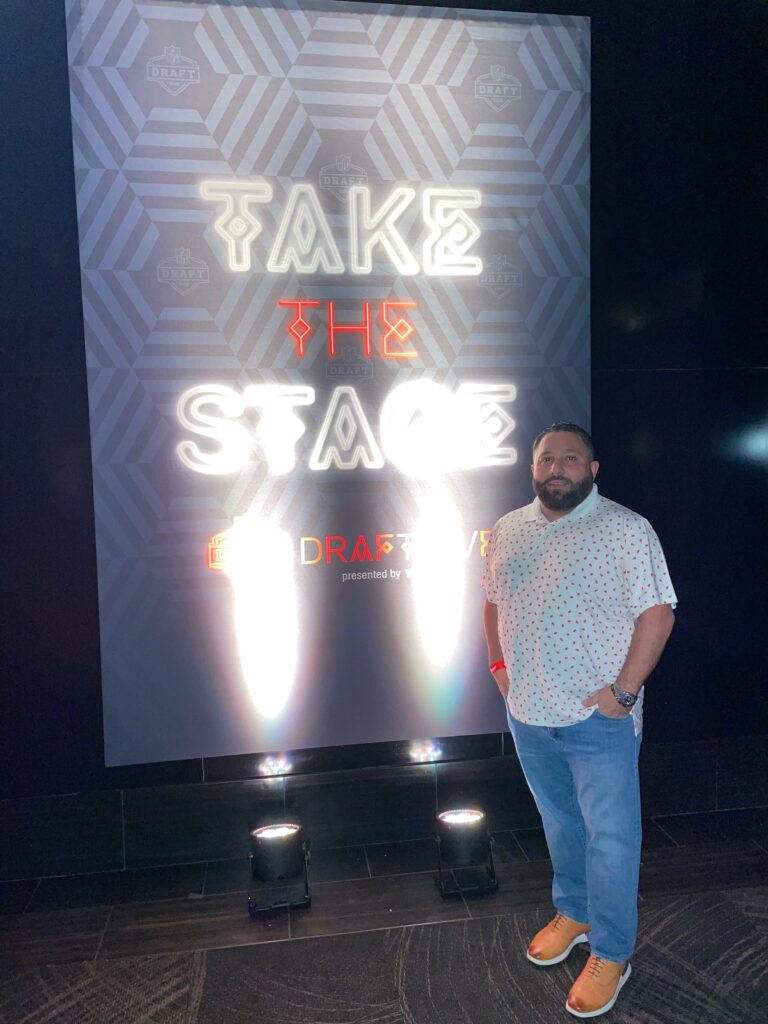 In the Weeds Reads
Pro Puzzles
Congratulations to Robbie for flying through last week's puzzle and posting our best time of 22 seconds!
Fawaz's location this week should be a bit of a clue as to the theme of this week's puzzle. Staying consistent with the football theme, this puzzle gets a field goal for difficulty – 3 out of 5 Rockets.