Rocket Fuel Newsletter – 04/23/22
Happy (belated) Earth Day! Friday marked the 52nd observance of Earth Day in the U.S. If you're looking to make an environmental difference, check out these nine tree-planting charities!
This week's edition goes green – startups trying to save the planet, a deep dive on solar panels and an eco-friendly crossword.
Fuel Up! 🚀
Biz Buzz
Extra Space On Your Lot? Why Not Save The Planet?
Cosmic, a startup in the tiny-house industry, has rolled out a design for an all-electric backyard home unit with the capability to not only power itself but also create and store additional energy to use on the owner's main house.
Cosmic's goal is to address two problems head-on: affordable housing and climate change. These 350-square-foot backyard homes, Cosmic believes, can create new rental properties for people looking for affordable housing while also reducing carbon emissions from household appliances like stoves and furnaces.
Housing News Roundup
Monday's release of NAHB builder sentiment data revealed the index declined for the fourth consecutive month in April. The decrease was primarily due to slower buyer traffic amid rising mortgage rates. This month's index came in at 77 compared to 83 last April, with 50 being the cutoff between builders having confidence and not having confidence in the housing market. 
Housing starts rose at a rate of 0.3% in March, but it's important to break this large-scale metric down:

The gain came from multifamily (e.g., apartments) construction projects. Multifamily construction rose at its highest pace since January 2020. 
Single-family housing starts actually dropped 1.7% in March, and permits for future single-family homebuilding dropped 4.8%.
All told, there still remains a massive backlog in new home construction due to supply chain issues, high materials costs and labor shortages in key fields.
Caffeinated Trends
When it comes to being environmentally friendly, perhaps the most impactful thing any one person can do is use solar panels to power their home. However, solar power is still an emerging technology, so consumers looking to buy a home powered by the sun may have limited options. 
An analysis of 10,974 major cities revealed that we have a long way to go until we have eco-friendly cities supported by solar-powered homes. The analysis showed that the city with the highest portion of solar-powered homes is Ewa Beach, Hawaii, at just 6.28% of its total housing units. Interestingly, 12 of the top 15 cities reside in Hawaii.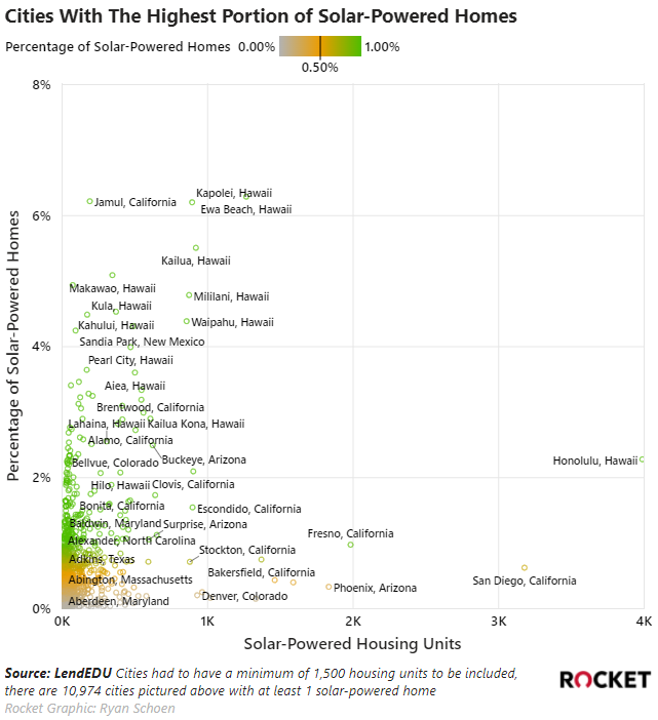 However, focusing on the current state of solar-powered homes masks the very real shift happening in our country to renewable energy systems.
In fact, the U.S. residential solar industry broke records in 2021 –residential solar installations grew 30% year-over-year at the highest annual growth rate since 2015 and are forecasted to remain at elevated growth levels through 2032.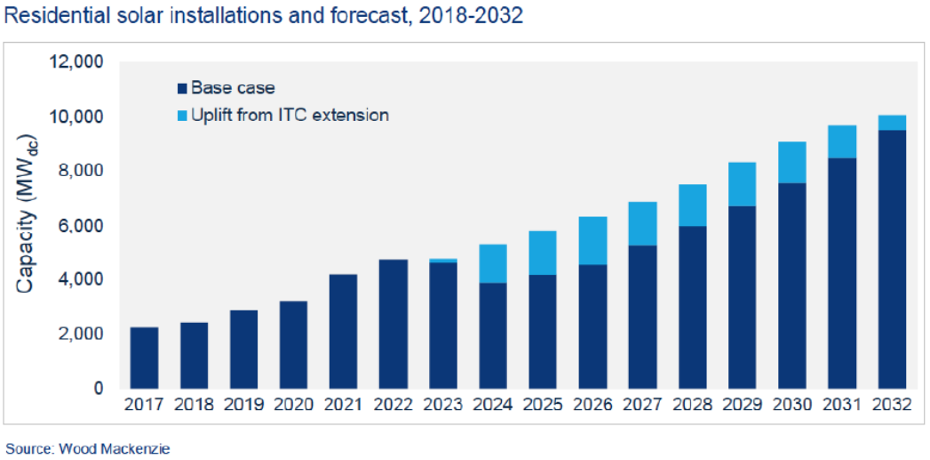 Over the next 5 years, Texas, California and Florida are expected to lead the green rush when it comes to new electric generating capacity powered by solar.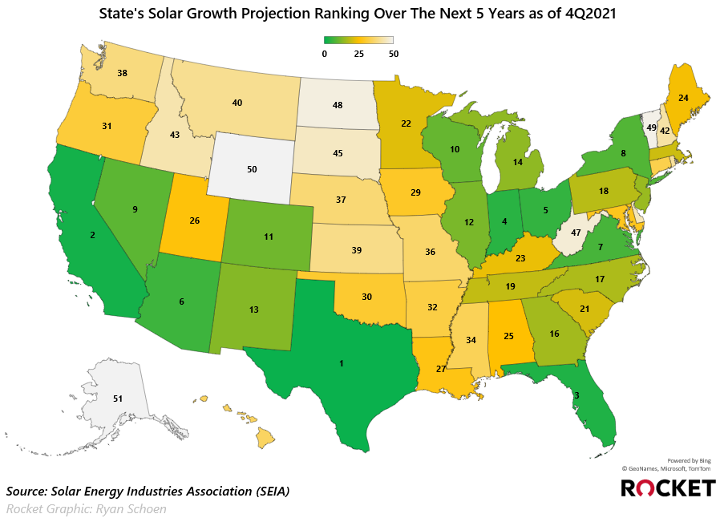 At the end of the day, this is a trend that is here to stay and has a very real benefit to homeowners. Not only do homeowners who go solar save money and help fight climate change, but they also can fetch a premium of around 4% when they go to sell their home. A consumer guide from the U.S. Department of Energy states that a solar electric system raises a home's property value by $20 for every $1 in utility savings per year.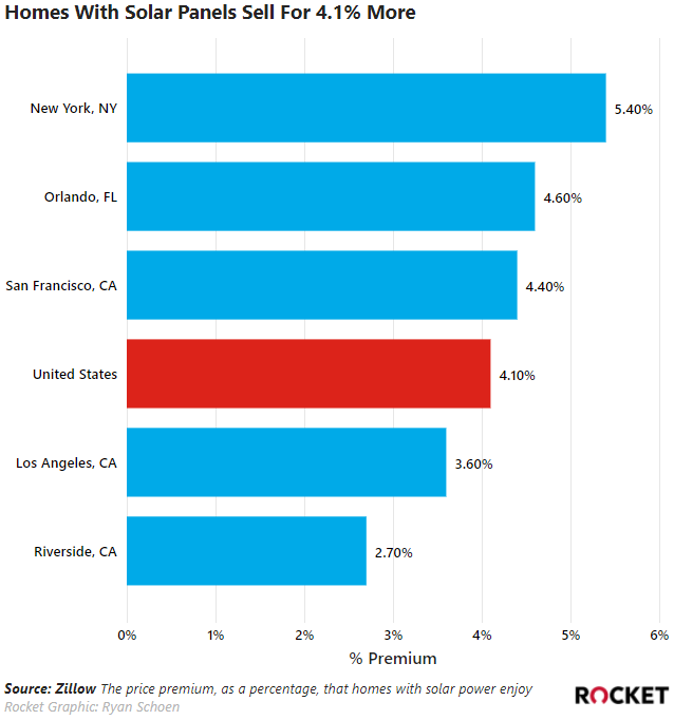 New Tech
Discover our next gen Start A New Loan Technology with a live walk-through experience with Austin Niemiec.
We're so excited to bring you our next gen Start A New Loan Technology! This Monday, join us for a live walk-through with our EVP, Austin Niemiec. This technology gives you more ways to register a loan with less assistance and 100% loan coverage. You can:
· Lock a rate before registering a loan
· Cruise through the portal with more flexible navigation
· Present real Loan Estimates on 100% of our products
Once you start using this technology, you'll get more flexibility, speed and control – from the start. Plus, more certainty – knowing what your clients receive after registration. Sign up today because you won't want to miss this great walk-through. This technology is going to strengthen your business. 
In The Weeds Reads
1. REALTORs Confidence Index Shows Demand Continues To Outpace Supply
2. Existing-Home Sales Slip 2.7% In March
3. April 2022 Home Showings Down 19% Year Over Year
4. First-Time Home Buyers Are Taking A Step Back
Pro Puzzles  
Kudos to everyone who completed our hardest Pro Puzzle yet! Our average time was 11:32, but two were able to complete it in under 3 minutes – an unnamed solver took first place at 2:31, and Zach A came in at 2:59. 
This week's puzzle is both shorter and nicer – we give it 2 Rockets out of 5.