Rocket Fuel Newsletter – 04/16/22
Tax Day is Monday! Are you a Ned Flanders-esque taxpayer that knocks out taxes ASAP, or are you more like Homer Simpson – waiting until the last second and questioning how many kids you have?

Fuel Up! 🚀
Biz Buzz
Responsibility Will Prevail

According to the National Retail Federation, just over half of Americans who receive a tax refund this year plan on putting it toward their savings. Another 33% will put it toward their debt, while only 8% plan on using it on a "splurge" purchase.
Better Late Than Never
Using Google AdWords to search phrases like "Can I file late taxes?," IPX1031 researchers found the top 15 U.S. cities for tax procrastination in 2021. Where does your city rank?
Would You Believe Wood is Getting Cheaper?
In non-tax-related news, lumber prices have dropped as the mortgage market has slowed. Lumber now comes in at $829 per 1,000 board feet, which is down 39% from its 2022 high of $1,357 in March. Today's price, though, is still nowhere near pre-pandemic levels of $300 – $500.
Caffeinated Trends
With the Consumer Price Index (CPI) skyrocketing 8.5% YoY in March, inflation is at the top of everyone's minds. As inflation rises, the consumer's purchasing power decreases, which is why it's generally a bad idea to keep an excess of cash and a good idea to diversify one's assets.
The most recent Survey of Consumer Finances shows that between 2016 and 2019, the typical family's median value of total assets increased by 13% to $228,000. Financial assets (transaction accounts, savings bonds, stocks, retirement accounts, etc.) increased 3% compared to 15% growth in nonfinancial assets (vehicles, residential and nonresidential property, business equity, etc.). 
Let's dive deeper into some of the most currently talked-about assets since the pandemic: stocks and residential property.
Stocks had a wild 2021, with more than 10 million new brokerage accounts opened in the first half of the year alone, about equivalent to all of 2020. No wonder, considering the NASDAQ Composite Index was up 68% during November 2021 from February 2020.
After looking at the historical performance of stock prices and home values, however, real estate (in purple below) proves to be much less volatile and more resilient to downturns in the economy than major indices like the NASDAQ (blue).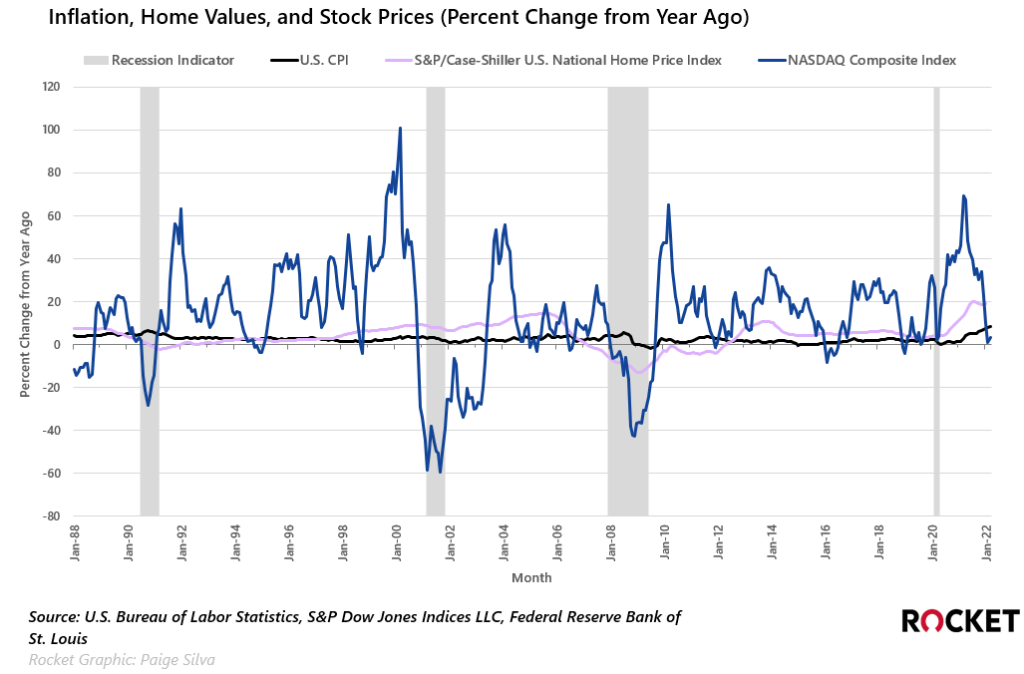 And lastly, a brief side note on our new friends: cryptocurrency and NFTs. These assets are relatively new to investors, and at least in part due to their relatively short time in existence, price volatility of these assets is high.
Let's not forget that Sina Estavi, the owner of the NFT of Twitter co-founder Jack Dorsey's first tweet, recently attempted to auction off his NFT. He bought it for a whopping $2.9 M in March 2021 and the highest bid he received was just slightly more than $6,200.
Save your seat for our next Pro Performance Sales Training: Overcoming Shopping Objections. It's happening next Tuesday, April 19, at 2:00 p.m. ET. This training has been highly requested by top performing partners, so this is a can't-miss session – especially for purchase season.
Our team will share fresh, logic-based perspectives to solve common objections our brokers face every day. We all know that clients like to see more than one offer before making a confident buying decision. The secret? Finding out what motivates clients to shop around and how to position yourself to win more business. If you're looking for new ways to handle common client issues, save your seat today.
Remember, it's a virtual event, so you can watch from anywhere.
Partner Spotlight
Favorite things about Rocket:
Pricing Calculator: "When you can see everything down to the penny and it's accurate, it's huge."
Rocket Connect: "It really took the guesswork out of how and when my problem would be solved." 
Training opportunities (Pro Performance): "Even if you can only join for a few minutes, there's a 99% chance you're going to learn something from those."
Coffee/tea preference: "99% of the time, I take black coffee." 
First concert: Weezer
Favorite baseball team? "Arizona Diamondbacks all the way. I went to the World Series in 2001."
Favorite vacation spot: "Cabo. It's 2 hours away, it's a foreign country, there are beautiful beaches, it's great."
Does pineapple belong on a pizza? "No, absolutely not. It's like putting lipstick on a pig; if you have to put something that sweet on a pizza, the pizza was already ruined."
We've seen some fast starts from newly approved partners, but few have taken off quite like Home Run Home Loans, located in Scottsdale, AZ. Owner and COO Ryan Sloyan opened the shop with his business partner last year after spending more than 10 years at other shops as the "right-hand man."
"[My business partner and I] had been doing this for 10+ years each, and we just said to ourselves, 'I think we know enough to start our own company, let's step up to the plate and hit it out of the park.'"
So far in their rookie season, Home Run has been a mainstay in the TPO lineup – in just a couple of short months since their approval, Ryan and his team have registered over 20 loans while ramping up a new brokerage amid tough market trends.
"Everyone's got more equity than they know what to do with, and they're scared to sell their houses to use it. The average person likes predictability, and so cash-outs are what we're finding consistent success with."
Perhaps most noticeable about their approach, though, is their baseball-specific branding. Their name, logo, and even their overarching strategy (below) all follow the same baseball theme, which Ryan says is all about creating a household name around a staple of American culture.
"There are a lot of boring names out there that get lost in the bunch, so we thought 'what's going to stick out to people that almost everyone in America knows about' – and that's baseball."
"We thought of some puns – 'hit this deal out of the park,' 'we'll step up to the plate for you,' and we found that there are a lot of ways you can go with that."
His suggestion to up-and-coming brokerages is to do something similar – develop a brand and lean in!
Want to share your story? Reach out to your Account Executive and you could be in a future Partner Spotlight!
In The Weeds Reads
Pro Puzzles
We goofed! The April 2 puzzle made its second consecutive appearance last week. We'll keep that baseball puzzle for another edition of Rocket Fuel.
If you're still looking for a challenging puzzle, this week's is the largest we've run (9x9)! See if you can spot the theme in a puzzle we're also giving 5 Rockets out of 5.