Rocket Fuel Newsletter – 02/18/23
Headed to Bali soon? Why not drop $7,000 per night on a luxury villa made from a former private jet? We're assuming there are more meal options than chicken or fish. 
In this week's edition: a breakdown of this week's economic news, how football can predict economic trends and a chance to catch up on IGNITE Live!
Fuel Up! 🚀

Recapping The Major Economic Headlines
It was a busy week for economic indicators – here's a recap of the major metrics that economists and consumers alike eagerly awaited: • Consumer Price Index, aka inflation: Inflation rose 0.5% in January, up from the 0.1% decrease in December. Keep in mind, though, that this month's reading is very close to the expected 0.4% rise.
• Retail sales: Retail sales were up 3.0% in January versus the expected 1.9%, suggesting that even though fears of a recession are in the air, consumers are clearly still willing to spend money.
• Housing starts: Much in line with analyst predictions of 1.35 million units, housing starts for January came in at 1.31 million units. February's IGNITE Live Replay: Watch now!
Mortgage professionals across the country watched Fawaz give highlights on our tools and technology, our products and what's new in Fee Freedom, and Fawaz made a BIG introduction – Bully Shield. 
Save your seat for the next IGNITE Live on Monday, March 6!! 
About Those Crazy Egg Prices ...
Buying eggs for your morning omelet may soon not feel like buying diamond-encrusted Faberge eggs! Wholesale egg prices have plummeted from their December highs, which should hopefully start trickling down to retail egg sales in grocery stores. 
Hey Fawaz, 👋 what's the update on Bully Shield?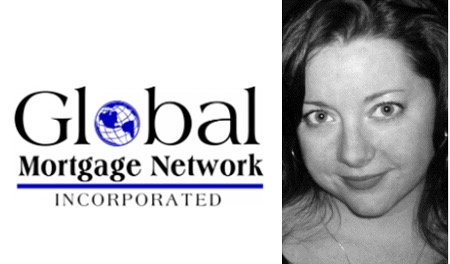 Julia Love, Global Mortgage Network
Tell us about some of the biggest lessons you've learned in your tenure.

It is super important to bond with your clients.
Treat every client how you would want to be treated.
Don't use mortgage terms and fancy acronyms.
Be an open book and don't be stingy with information.This is easy for me as a lending professional but to our clients, the mortgage process can be very intimidating. I educate and make it easy for them to understand. 

What is one thing you wish you knew when you got started? 
When I started, I was told, "here is your desk and this is the mortgage process from start to finish." It sounded straightforward, [but] they forgot to mention that details matter. Follow-up does not happen by itself. Your clients are on a completely different timetable and if you are not diligent in your follow-up, you will have delays. Consistent follow-up is paramount to success. 
What is something you are incredibly proud of within your business? 
I have worked at the same brokerage for over 19 years. While the business has changed the loyalty of our clients has not. Referrals are our life blood. Referrals make us proud! Relationships are key, not only with our clients and referral sources but our business partners too! 
Why Rocket ProSM TPO? 
Rocket makes us look good. The process and the turn times (even when it's busy) allow us to make commitments to our referral partners and clients. The ease of accessing information and the willingness by the Rocket team to assist is unmatched in our experience. Consistency across the board is why they are our go-to lender.
What is your "why"?
I like to see people meet their goals. I love the autonomy my company offers and the freedom I have to help people meet their goals and improve their lives. The added benefit is that I can make a living and keep my life interesting with this line of work.

February is the month of quirky indicators!
On Groundhog Day, Punxsutawney Phil saw his shadow, predicting 6 more weeks of winter. Looking back at the last 10 years of predictions, the National Oceanic and Atmospheric Administration has found Phil to be right only 40% of the time.
A somewhat more impressive (but equally spurious) relationship has been discovered between the outcome of the NFL Championship and the performance of the stock market in the following year! 🏈
This indicator predicts that when the game is won by the American Football Conference (AFC), market conditions will turn bear-ish, and if the National Football Conference (NFC) wins, we can expect a bull market. This predictor has been correct 41 out of 56 games - a 73% success rate! Last Sunday, the Kansas City Chiefs (AFC) defeated the Philadelphia Eagles (NFC), meaning we can all but guarantee an impending recession 😉.
When it comes to more economic focused data in the month of February, the Consumer Price Index (CPI) Summary was released by the Bureau of Labor Statistics that included inflation data for January 2023. Overall CPI is at 6.4% over the last 12 months, making this the seventh straight decrease in CPI after it peaked at 9.1% in June 2022.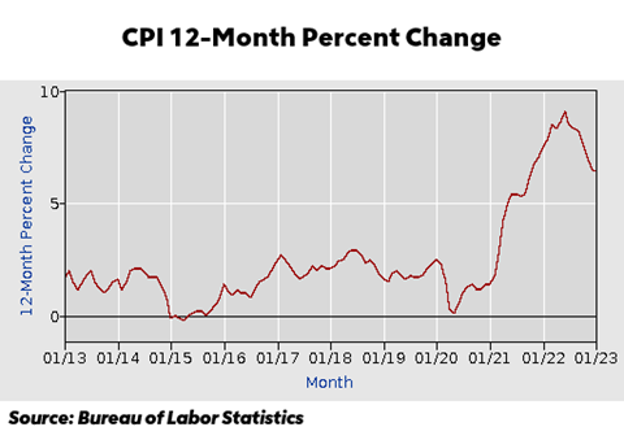 While CPI is continuing to decrease, the rate at which it is decreasing is starting to slow down and is still quite far from the Fed's goal of 2% inflation. This leads us to anticipate the Fed will continue to raise benchmark interest rates to help close the gap.
Another indicator that recently made an appearance in the S&P 500 is what is known as the Golden Cross – when the short-term moving average breaches the long-term moving average. The last time the S&P 500 50-day moving average broke through the 200-day moving average was in 2020, at the beginning of the latest bull run.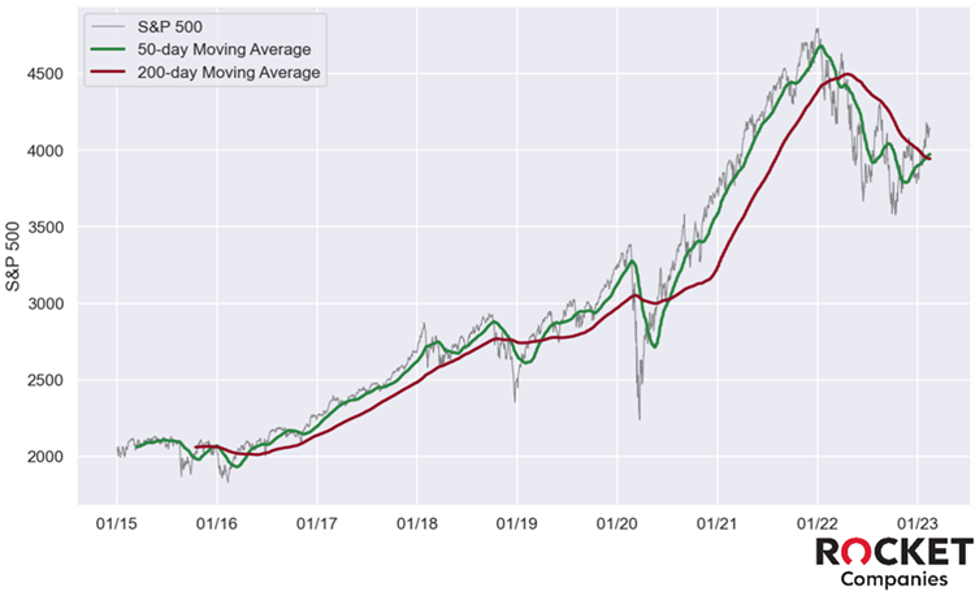 With mixed messages coming from market data, there could be some volatility in the coming months. At the very least, we know the Fed is focused on bringing down inflation and will likely continue to raise rates at their next meeting in March. Fed Chair Jerome Powell recently commented that the fight against inflation is "likely to take quite a bit of time." Clients should lock in now rather than wait and risk taking in a higher rate! 
Fawaz and Senior Vice President Don Chiesa joined our good friends at West Capital Lending this week for their first annual open house!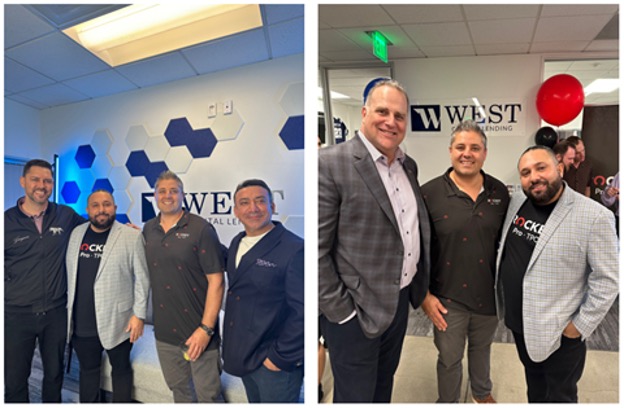 Partners! Your next learning opportunity is this week!
Be sure to join us TUESDAY at 2:00 p.m. ET for our next Pro Performance Sales Training: Winning With Purchase Product Innovation.
We're giving you VA selling confidence so you can serve active-duty service members, veterans and their families. And we'll cover our condo services – the amazing technology of Condo Simply and the support of our dedicated Condo Project desk team.
Register here! 
Not a partner? Let's chat about how Rocket Pro TPO has your back and puts you first! 

Six solvers finished last week's puzzle in less than a minute, including two in under 30 seconds. Michael's time of 27 seconds was just 2 seconds off of Josh Wescott's 25 seconds. Great job!
This week's puzzle gets 2 Rockets out of 5. Click here to solve!