How To Become A Loan Officer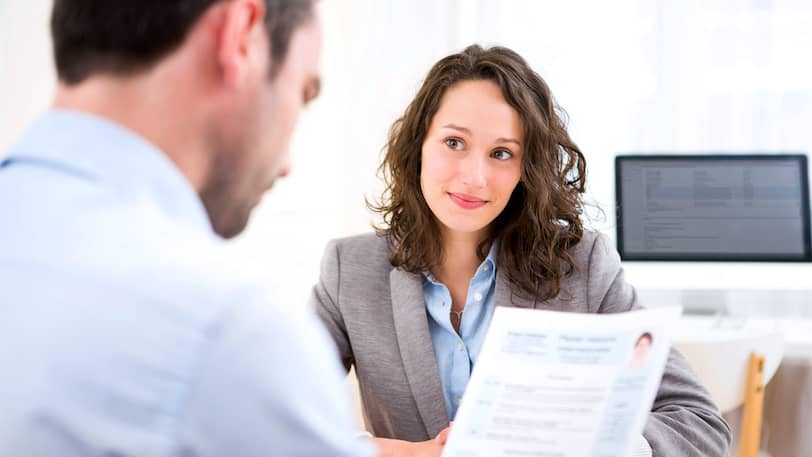 With today's ever-increasing hybrid work preferences and importance of a better work-life balance, a loan officer career can offer big advantages. It's no surprise that a loan officer is currently ranked #15 in U.S. World News and Report's rankings for best business jobs in the U.S.More good news: the ranking also states that the Bureau of Labor Statistics projects a 1.3% employment growth for loan officers between now and 2030, with an estimated 4,300 job openings during this time. But before you dive in, let's look at the career path, what's required and what you'll be doing. Read on to discover how to become a loan officer, including how to get the skills and training you need.

What Does A Mortgage Loan Officer Do?
Loan officers or mortgage loan originators (MLOs) help a prospective borrower get the right mortgage for a real estate transaction. The MLO is the original lender for the mortgage and works with the borrower from application and approval through the closing process. An MLO can be a lending company, mortgage broker or loan officer.
Loan officers may work for banks, credit unions, mortgage brokerage firms and other financial institutions. They provide home loan options to home buyers and people looking to refinance their current mortgages, working with them to find the best mortgage option that aligns with their personal finance goals, budget, and preferred loan terms.
What's A Mortgage Loan Officer's Day Like?
You'll work closely with a borrower through the steps of getting a mortgage, answering questions, explaining various loan products and making sure the loan they choose is the right fit for them. You'll explain the loan terms and interest rates, collect documents and verify such information as an applicant's credit score and income. You'll provide your client with an estimate of their loan amount and interest based on a review of their income, credit report and assets. Once that's done, you'll continue to work with the borrower through the application and appraisal process, and onto the underwriting process to help ensure that they're ready for closing. During the closing process, you'll be working with more than just your clients, so expect to establish relationships with real estate agents, title companies and escrow specialists. This is all to ensure that your client closes on time.
You are the person who works directly with the client, establishing trust and making them feel comfortable about the mortgage process. What's more, as a mortgage loan officer, you're a trusted advisor, helping clients navigate the financing, keeping real estate agents in the loop and going beyond closing. You'll be checking in with your clients, ensuring that they're still comfortable with their mortgage experience. It's an ongoing process that helps you grow your business.
You're essentially a mortgage expert who's always up to date on the law, guidelines and regulations and you're current on the products and services that you're offering. You want to do everything to provide the best mortgage experience for your clients.
How To Become A Loan Officer
While there is a lot of on-the-job training you'll receive once you become a mortgage loan officer, there are also some requirements you need to meet before applying for a job opening. It's one of the most important decisions of their life, so you're taking a position that is very important to American homeowners.
Basic Requirements, Training and Licensing
For non-bank lenders, like credit unions, MLO's are required to be licensed with individual states. You can be licensed in multiple states, even if you work in one state. You can check your own state to learn about state-specific mortgage licensing. Along with a few basic employment requirements, you must also meet the following mortgage licensing requirements, specified by the Secure and Fair Enforcement For Mortgage Licensing Act (SAFE Act) and their specific state. Often times, you can become licensed after you accept a job.
Complete 20 hours of prelicensing education
Complete required coursework: Score a minimum of 75% on the two-part nationwide SAFE Mortgage Licensing Act Exam, developed by the Nationwide Mortgage Licensing System (NMLS)
Agree to a criminal background check
Commit to continuing mortgage education each year
Agree to a credit check
In addition, some mortgage companies have education requirements.Some mortgage companies may require a bachelor's degree or high school diploma. When you partner with Rocket ProSM TPO, we'll help ensure you're staying up to date with regulations by providing continuing education courses at a discounted rate. 
On the Job Training
Once you land a position, the training continues, and you'll find it can be specific to your lender, bank or credit union. You'll learn how to optimize your company's specific systems, dive into the loan application process and become an expert at specific loan requirements, like reviewing credit scores, debt-to-income ratios and down payments. You'll also learn about the types of loans offered by your company and how you can explain the benefits of the loans to your clients. You'll gain extensive knowledge about the loan process, from getting your clients pre-approved, through the appraisal and underwriting and all the way to the closing process
Rocket Pro TPO offers extensive, elite training for all partners. It's called Pro Performance and it covers sales and technology training that helps you confidently present to clients, win more business, maximize world-class technology and stay up to date on processes and products. We also have an All-Access live, in-person training bringing together the best of Pro Performance. 
Leveraging More Valuable Skills
Becoming a successful MLO takes more than knowing the difference between FHA and Jumbo loans or discussing current interest rates. It takes someone with strong interpersonal skills. You'll be building relationships with your clients and helping them reach their financial goals, so having empathy, compassion and patience are all essential qualities. In fact, some of the most successful MLOs admit that seeing the happy faces of a family that's just closed on the home of the dreams is what makes their job so satisfying.
In addition, having strong networking skills is important because you'll be connecting with potential borrowers and growing your real estate agent relationships even beyond your traditional 9-to-5 day. If you know how to get referrals and ask for testimonials from happy clients, this can help grow your business even more. Other helpful essential skills include real estate knowledge and interest in the current real estate market, as a well as marketing trends and social media. And while the benefits of having the flexibility and freedom of being an MLO is a plus, it's essential that you have organizational skills and a strong work ethic, as well as a keen ability to manage your time.
Once You're A Mortgage Loan Officer
Once you're licensed, have the job and working with clients, the work doesn't stop there. It's important to stay up to date on real estate and market trends, loan products and sales techniques. There are many ways to continue your training. Become a member of such groups as the Mortgage Bankers Association (MBA) and attend conferences, workshops and other networking events. You can find continuing education providers from the American Bankers Association (ABA), attend NMLS-approved online courses and, of course, take advantage of the trainings, Pro Talks and other resources Rocket Pro TPO offers its partners.
If you're just starting out or haven't worked with us yet, learn more about all of the advantages of partnering with us, including growing your mortgage lending business.